MeLaβ
Explore the amazing ways your body and mind work together, and how your daily choices impact your health and wellbeing.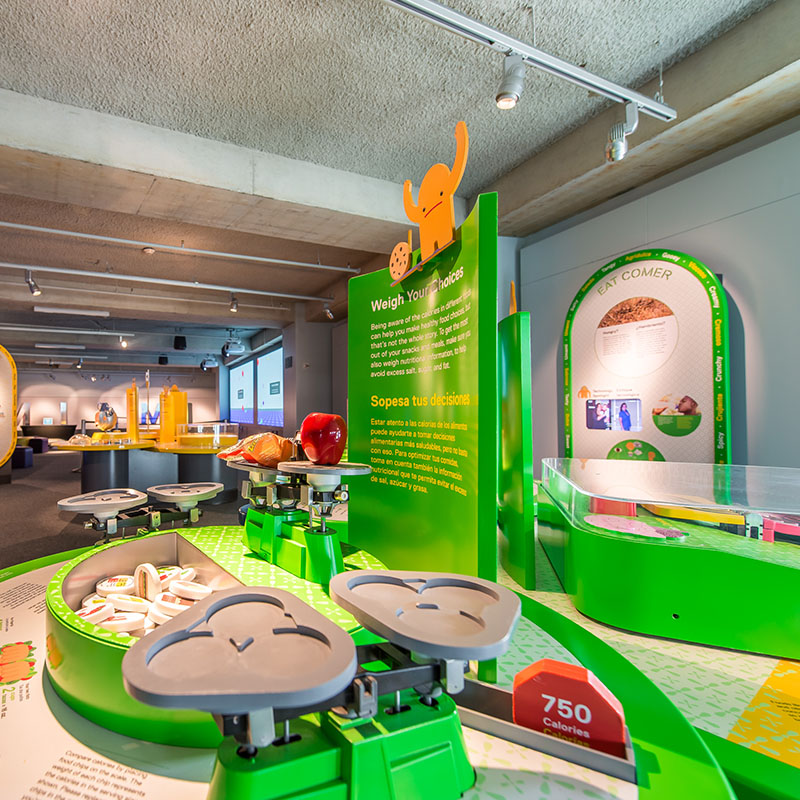 Challenge your brain, stop a virus, plan a plate or just chill out – it's all part of your MeLaβ experience.
The MeLaβ exhibition at Frost Science has been reenvisioned and relocated! This new enhanced experience provides a memorable opportunity for museum guests to connect with the exhibition's focus on health and wellbeing. In fact, there is so much to explore that the exhibition is now spread across two levels in the museum's West Wing. The exhibition will feature new interactive experiences, including the Health Labs, where guests can step into the shoes of a health scientist and conduct experiments, Crush the Calories, a digital gaming installation that encourages movement, and reimagined live science demonstrations.
Every day we all make choices that affect our health and wellness. In real life, each choice counts, but in MeLaβ, located in the Baptist Health Galleries, you become the experiment, as you run simulations, solve puzzles and test your senses, reflexes and stress responses to find out what works best for you.
As you travel through the two MeLaβ spaces, you hit five interactive zones (Eat, Move, Relax, Connect and Learn), each offering explorations that reveal the connection between your body and brain. Fill up a virtual plate with your favorite foods to find out how to balance calories in with calories out; take timed brain teaser challenges to see how you respond under pressure, or sink into a relax pod to learn which music helps you unwind.
Your partner in MeLaβ is βeta, a digital character you build as you answer questions in each zone. The more questions you answer, the more you can customize your βeta, and the more you learn about yourself. On your way out, get motivated and inspire others by posting a health goal on the MIAMI wall, sharing what you plan to do tomorrow to build a better you and community.