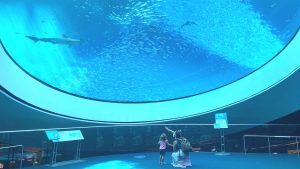 Help us shell-ebrate World Ocean Day on Sunday, June 5! Dive into Frost Science and our partner's work to save the reefs, protect the coastlines and teach the world about oceans and marine life. You'll hear from some amazing conservationists working with marine plants and animals at the museum, then tackle the challenge of testing water quality and identifying mystery microplastics.
From learning how local scientists are using innovative technology to save coral reefs to exploring how your family can recreate safely on the oceans this summer, we're showcasing the unique ways our South Florida community is coming together for the environment. Your family will be able to stretch their creative muscles in interactive games then complete a training to help keep Biscayne Bay clean. You'll also be able to hear readings from two local authors, Erin Spencer and M.J. Fievre, reading their books about the ocean.
At Frost Science, we are joining together to support and grow the global movement to protect at least 30% of our blue planet by 2030 ("30×30"). A healthy ocean is a critical part of the solution to the climate crisis. By supporting 30×30, we can protect our planet's life support systems – specifically the interconnected issues of ocean, climate and biodiversity.
World Ocean Day programming is free with paid museum admission.
Programming Schedule
World Ocean Day programming includes special presentations and talks with some of the area's leading researchers and scientists in the Ocean Gallery on Level 1, and the WetLab on Level 5.
Plastic Plunge
Main Atrium Level 1
Tackle the challenge of cleaning our oceans by experimenting with the buoyancy of different types of plastic before solving a puzzle that reveals how long debris lasts in saltwater.
Debris Free Oceans Plastic Pollution Table
Power of Science Level 1
Learn about the impacts of plastic pollution on our world's oceans, examine Biscayne Bay water samples for microplastic pollution, and find out how you can help clean up our waterways.
NAUI Worldwide. Dive Safety Through Education
MeLaβ Level 2
Whether you're new to diving, or an experienced diving enthusiast, NAUI offers certifications grounded in over 60 years of experience that will provide you the skill and ability to become more than a certified diver.
The Children's Trust
Oculus, Gulf Stream Aquarium Level 2
The Children's Trust is a dedicated source of revenue established by voter referendum to improve the lives of children and families in Miami-Dade County. Join us for a read-aloud by local author M.J. Fievre of her book The Ocean Lives There.
Blue Scholars
MeLaβ Breezeway Level 2
The Blue Scholars watershed program educates young students about the global ocean, water cycle and Everglades watershed, and helps them to better understand their connection to, and impacts on, Biscayne Bay and the marine ecosystem. Using our EnviroScape model (representing a coastal community), students pollute the model with motor oil (soy sauce), litter (colored sprinkles), fertilizer and pesticides (Kool-Aid), domestic animal poo (coffee grounds), etc., to highlight the environmental impacts on land created through human behavior and activities.
Beta Analytic
MeLaβ Level 2
Learn about carbon-14 dating of shells, corals, and other carbon containing substances that date back 50,000 years in time with Beta Analytic scientists and researchers.
Miami-Dade Public Library System
Oculus, Gulf Stream Aquarium Level 2
Dive into reading and swim on over to learn about the 2022 Summer Reading Challenge, sign-up for a library card and see what's new and fun at your Miami-Dade Public Libraries.
SEAC USA CORP.
Oculus, Gulf Stream Aquarium Level 2
SEAC offers an entire line of equipment: SCUBA, Snorkeling, Spearfishing, Freediving, and Swim. SEAC gear is rigorously testing all of their products to assure durability and performance in all environments.
Outdoor Connections – Making Memories on the Water this Summer
MeLaβ Level 2
Recreate Outdoors Safely this Summer with Outdoor Connections! Learn the essentials of planning your paddling trip to explore all that Biscayne Bay has to offer.
"Where Do Sea Turtle Hatchlings Go? An Introduction to the Sargasso Sea"
Feathers to the Stars Breezeway Level 3
Guests will learn about the different sea turtle species that nest here in Miami, and how hatchlings make their way into the ocean and utilize the Sargasso Sea for the first few years of life.
Boating in the Bay with FWC
Feathers to the Stars Breezeway Level 3
Join Florida Fish and Wildlife Conservation Commission to learn more about how to practice safe boating in Biscayne Bay and the latest fishing regulations to help keep Biscayne Bay healthy for your next adventure into the sea.
Ocean Rescue Alliance and 1000 Mermaids Artificial Reef Project
Feathers to the Stars Breezeway Level 3
ORA is a marine conservation and restoration nonprofit that implements innovative techniques to restore marine environments utilizing artificial structure for fish habitat, coastal protection, restoration, and ecotourism.
Miami EcoAdventures
MeLaβ Breezeway Level 3
A Division of Miami-Dade Parks promoting conservation thru nature-based programming.
Ocean Acidification and Corals
MeLaβ Breezeway Level 3
Learn how high carbon dioxide from the atmosphere causes ocean acidification and ultimately disturbs corals with the University of Miami's Rosenstiel School of Marine and Atmospheric Science.
Pelican Harbor Seabird Station
MeLaβ Level 3
PHSS is a Wildlife Rehabilitation Center in the heart of Miami that has been rescuing and releasing Florida native animals since 1980.
Miami Waterkeeper
MeLaβ Level 3
Come learn about Miami Waterkeeper and how we work to keep Biscayne Bay and other waterways around in South Florida Swimmable, Drinkable, Fishable. We have games, activities, and plenty of merch and swag!
Mission Microplastics
The Dive Level 3
Can you identify and remove microplastics from the sand? Come try out your microscope technique as you learn how to keep microplastics from entering our oceans.
Seashell Sorting
MeLaβ Breezeway Level 3
Put your classification skills to the test as you learn about amazing animal diversity and our ocean ecosystems.
Explore the World of Coral Reefs
Mammoth: Ice Age Giants Level 4
Join Erin Spencer, a marine ecologist and author of the children's book The World of Coral Reefs, to learn about coral reefs and the cool and unusual animals who live there!
Frost Science and SECORE International
Mammoth: Ice Age Giants Breezeway Level 4
Frost Science will be showcasing our holistic approach to coral restoration, by not only caring for endangered corals and studying additional long-spined sea urchins, but integrating partnerships, such as with SECORE International, and conservation education in our efforts.
The University of Miami's Coral Restoration Labs
Mammoth: Ice Age Giants Breezeway Level 4
The University of Miami Rosenstiel School's coral scientists will showcase their cutting-edge coral research on reef restoration and resilience in the face of a changing climate as well as how the public can get involved!
NSU's Coral Reef Restoration, Assessment, and Monitoring Lab
River of Grass Breezeway Level 4
NSU's Coral Reef Restoration, Assessment, and Monitoring (CRRAM) lab utilizes long term coral reef monitoring to inform and supplement an expansive coral nursery program that fosters numerous partnerships supporting coral reef restoration.
The University of Miami SUSTAIN
River of Grass Breezeway Level 4
The SUrge STructure Atmosphere INteraction (SUSTAIN) Facility, UM's hurricane simulator, will be showcasing how coral reef structures protect our shorelines from storms by dissipating wave energy.
Saving South Florida's Exceptional Corals
River of Grass Breezeway Level 4
The GIS and Spatial Ecology lab manages and implements coral disease interventions in South Florida to save colonies before they die. Check out our Coral Disease Intervention Storymap. Stop by our table for a chance to check out our underwater activities in virtual reality.
Coral Lab Tours
Knight Learning Centre Breezeway Level 5
Join the Southeast Florida Urban Coral Reef Restoration Hub on the 5th Floor from 11:00AM-4:00PM for a tour of the Coral Lab. Speak directly to a coral scientist and discover what is being done to protect Florida's Coral Reef.
Parking Instructions
Onsite parking is available in the museum garage.