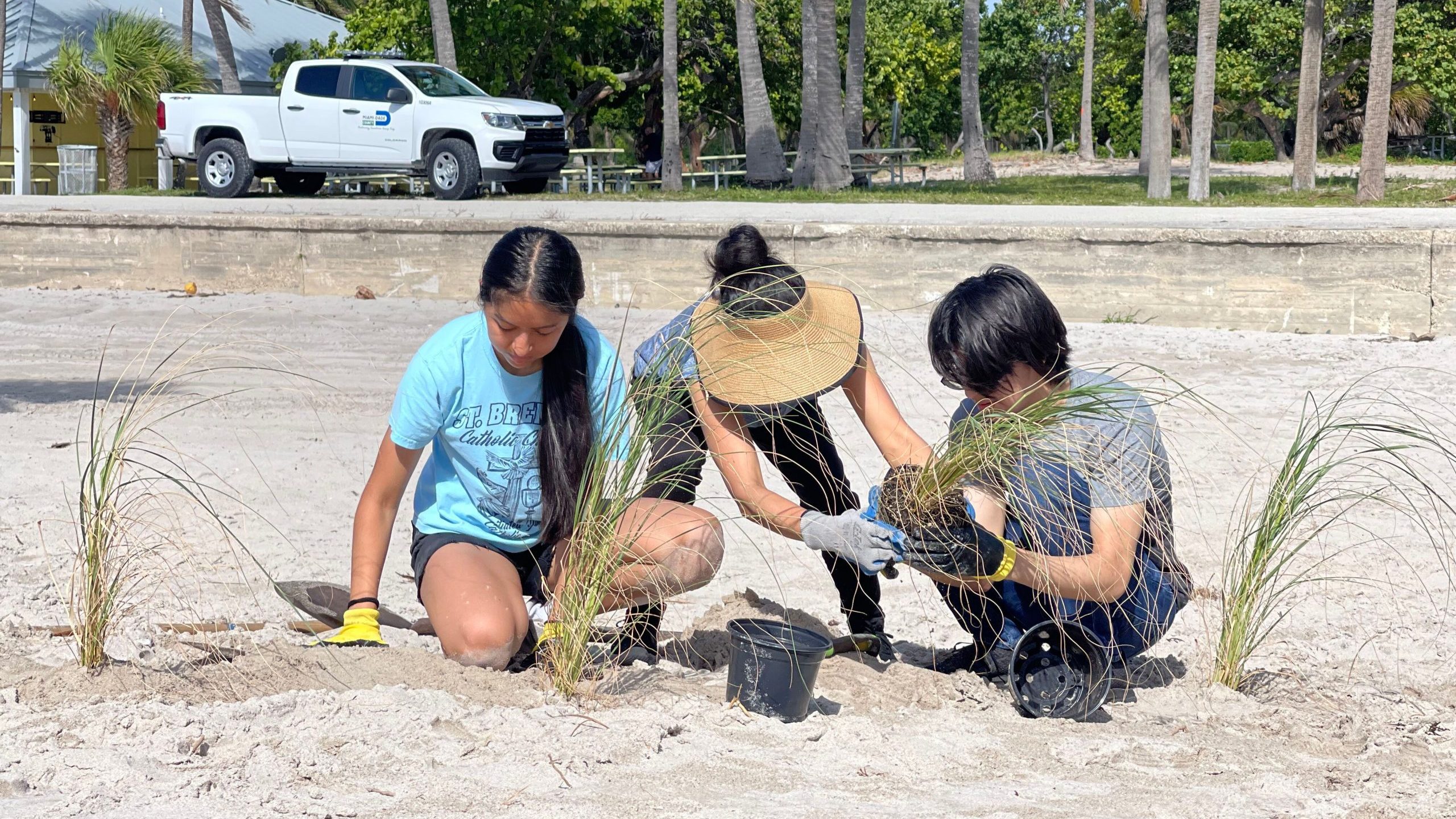 MUVE is excited to work alongside our community in partnership with Miami-Dade County's Miami EcoAdventures to care for our critical coastal habitats through nature-based volunteerism. On Saturday, June 17, 2023, we will plant native sea oats to enhance beach dunes and conduct a citizen science-based beach cleanup. All tools and materials will be provided. We recommend a reusable water bottle, close-toed shoes, sun and bug protection, and clothes you don't mind getting dirty!
Directions to check-in
Check-in will be located at the picnic tables next the Crandon Park Open Seas Cafe concession building, located at the south end of Crandon Park at the address 6747 Crandon Blvd on Key Biscayne.

To get to the meeting location, enter Crandon Park on the Oceanside using the "South Beach" entrance which is the third left-hand turn into the Park. Proceed past the old Park Headquarters building and information booth until you reach the sidewalk, then turn right and continue along the parking lot until you reach the south end. Park in the last few rows of the lot near the yellow Park Office building. After securing your vehicle, head east towards the beach where you will see the Open Seas Café, a yellow building with a covered patio and picnic tables located just beyond the 'Amusement Area'
Community Service Hours
We offer community service hours at all MUVE events. Please come find us after the event to sign forms.
Safety
The completion of Frost Science waiver and Miami-Dade County waiver are required for participation. These waivers are both included in the registration process.
Citizen Science Cleanup
Download the free CleanSwell  app for your smartphone prior to your arrival! Then you can submit data directly to the Ocean Conservancy's global ocean trash database, which provides researchers and policymakers a snapshot of pollution problems and the data to help develop solutions.
Parking Instructions
Parking is free for registered volunteers and passes will be provided upon check-in.