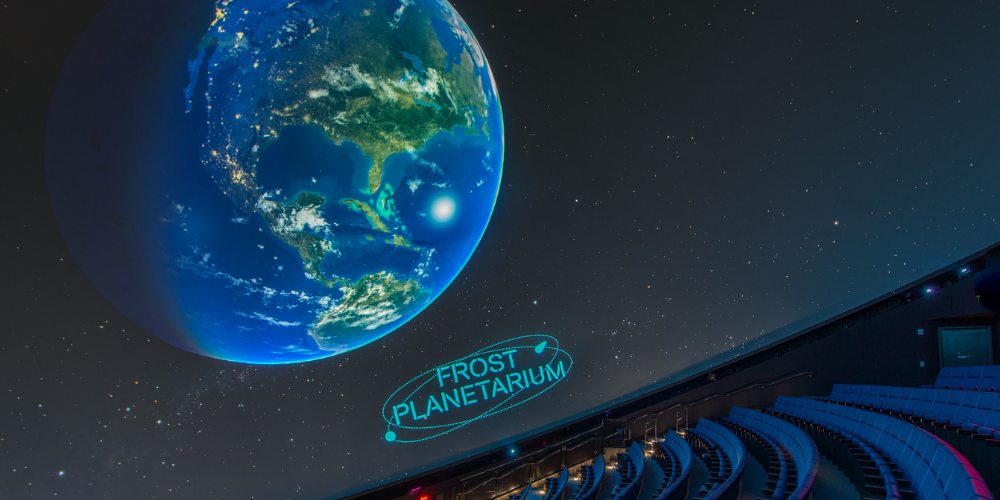 Today's technology allows science museums to create stunning learning experiences. Frost Science takes full advantage, incorporating leading-edge advancements throughout the museum, from the aquarium experience to the immersive media of the Frost Planetarium to the interactive virtual Everglades of River of Grass. The building itself is an exhibition and much of its technology is accessible to the public.
Frost Planetarium
The Frost Planetarium is one of the most advanced facilities like it in the U.S., and will dazzle audiences with journeys to outer space. Its technologies include:
16-million-color 8K visual system
8K projection system achieved by combining six Christie Mirage 304K projectors capable of true 120Hz to ensure stunning color reproduction and image quality
3D projection via rapid filter movements which create two images that your eyes then merge together
16-speaker surround sound system giving three-dimensional depth to the audio experience
seamless 67-foot diameter full-dome screen
dome tilted forward at 23.5 degrees so images move through your entire field of vision
River of Grass
The River of Grass interactive exhibition is a large-scale projected environment depicting a day in the life of the Everglades. Guests enter a video game-like 3-dimensional scene where they interact with digital renditions of alligators, Florida panthers, roseate spoonbills, and use movement and physical props to alter the environment and learn about it. Technology includes:
nearly 800 square feet of high resolution projection surface on floor and three walls
16 high-resolution projectors
eight-channel directional audio
seven 3D capture cameras tracking guests' positions and gestures, creating interactivity
state-of-the-art interactive water physics simulations
Aquarium
The matrix of aquariums at Frost Science creates memorable face-to-face encounters with beautiful live animals, but also employs emerging technologies that bring ecology and marine science vividly to life in novel ways. Technologies include:
90-foot long 4K projected interactive digital media wall depicting open ocean ecosystem
High-tech interactive dance floor measuring guest activity
VR telescopes on the upper Vista level revealing Biscayne Bay in centuries past
Clear LED display cases that allow a digital animation to provide information and then reveal a collection piece on the Ocean Gallery ramp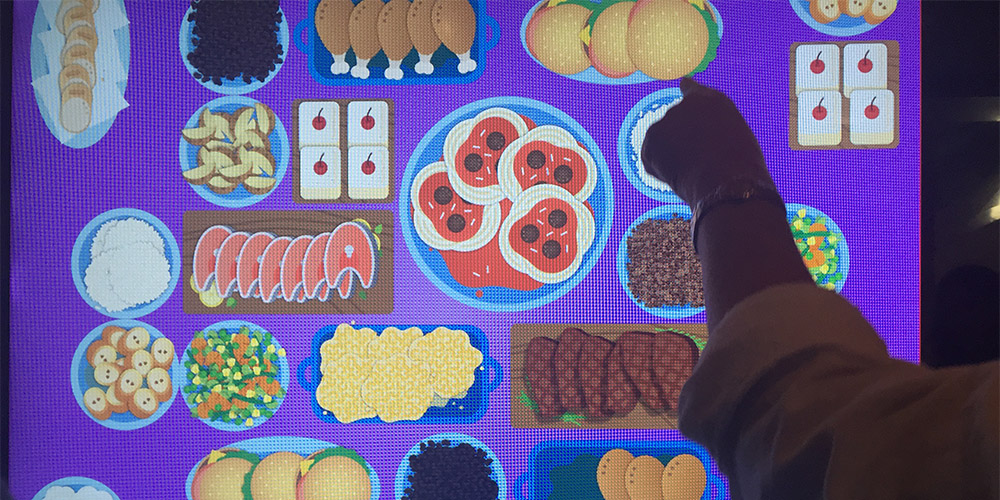 MeLaβ
MeLaβ uses interactive technology to lead guests into an investigation of how different lifestyle choices can lead to a healthier, happier life. Technology includes:
digital check-in points where guests track progress and provide health data; group data tabulated on monitors above
multi-player digital interactive games exploring diet, viruses and more
immersive relax pods monitoring heart rate and stress
technology spotlights featuring the latest in medical innovation
responsive gallery-wide light show
infrared imaging, find out your current body temperature
crush the calories, a digital gaming installation that encourages movement
Communication
Motorola Solutions is providing Frost Science with radio communication for our staff to help create a wonderful guest experience and ensure the well being of our wildlife.
Our animal husbandry staff use durable, water resistant DTR550 radios to keep team members informed about wildlife health, feeding schedules and water quality assessments. Our guest experience and facilities staff use DLR1060 radios to excite and surprise our guests by safely escorting them to great science and technology exhibits throughout Frost Science.
The Motorola Solutions DTR550™ and DLR1060™ are digital, on-site portable two-way radios that operate at 900 MHz. With the extended range of the DLR radios, we can respond to our guests quickly no matter where they are.
Digital DLR radio protocol leverages Frequency Hopping Spread Spectrum (FHSS) technology, which makes communication more reliable and private when compared to standard analog radios
Our radio communication is optimized by Motorola Solutions' technical staff to maximize our operational efficiencies, address unexpected situations, rapidly solve problems and create excellent guest experiences
Accessibility
Frost Science uses technology—from website design to onsite media—to enhance the learning experience for all guests.
Descriptive audio allows guests to gain an overview of the Aquarium and major galleries.
iBeacon descriptive audio enhances guests' experience through their mobile devices.
website structure, layout and content designed with accessibility in mind, ensuring all guests can enjoy their visit
Infrastructure
The IT infrastructure powering Frost Science acts as the nervous system of the facility, supporting precise, energy-efficient control of the HVAC systems, lighting systems, fire alarms, smoke control, solar energy integration, graywater and rain water reclamation, and the life support systems for the museum's aquaria. Technologies include:
Dell centralized data storage solution SC9000
Dell PowerEdge 13th generation servers
Dell Fibre Channel SAN Switches