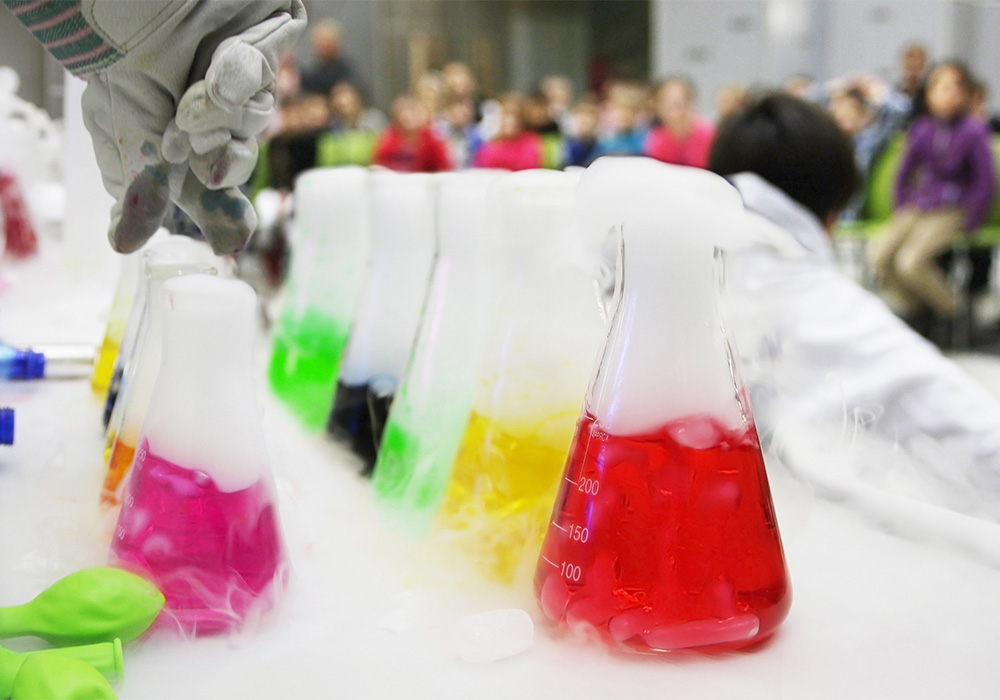 A birthday party at Frost Science includes all-day admission to the museum's exhibits, as well as two hour access to our private birthday room where you and your guests can celebrate! Choose from one of our exciting science-themed soirees for a completely unforgettable experience— and reserving it on our online booking system makes planning your child's next party a piece of (birthday) cake!
2 Hour Birthday Party Package ($600):
A special gift for the birthday child.

Admission and access to

Frost Science permanent

exhibitions for up to 28 guests (birthday child and parent(s) are free and included in the 28 guest count). Additional children are $15.00 each. Additional adults are $24.00 each. There is no charge for children under two.

One

Frost Planetarium

show for an additional $5.00 fee per person.
One reserved parking space in our parking garage for birthday party host.

Use of our private birthday party room for 2 hours, includes party activities and cake celebration. In addition, a half-an-hour for set up before the party and half-an-hour for break down after the party are also provided.


Dedicated Party Host

Table cloths, plates, cups, utensils, napkins, center pieces and a personalized electronic happy birthday display

All birthday party decorations

Frost Science members receive a 15% discount off of the party package (excludes food, beverage and hands-on activities).
Choose your hands-on activity:
River of Grass (6 and younger only): Go on an Everglades adventure and get to know our state's special wildlife in their native habitat while on an animal spotting expedition in our "River of Grass" exhibit. Private time in this exhibition is also available for $300.

Superhero Science (additional $100): Discover the powers of superhero science as you and your friends explore chemical reactions on your special day! Turn Miami into a frozen cityscape like Mr. Freeze by creating snow using a special polymer, channel the powers of Aquaman as you transform the color of liquids into a beautiful rainbow, harness the power of Green Lantern by changing the color of fire, and for your final act, release a fury of high-pressured wind like Storm from the X-Men—indoors! (30 minute demonstration)

Extreme-Nitro! (additional $100): Make your birthday an absolute BLAST with our Extreme-Nitro experience! Watch as balloons, flowers, and eggs shatter, explode, or strengthen as we explore the freezing effects of liquid nitrogen. From indoor clouds to a frozen bubble explosion, this liquid N2-inspired birthday party is too cool (-321°F, to be exact) for school. (30 minute demonstration)

Undersea Adventure: Explore the wonders of our ocean's most unique inhabitants—sea horses and sea urchins—by making your very own take-home creatures.

Spin Art T-shirt (additional $10.00 plus tax per child) or Spin Art Disk (additional $5.00 plus tax per child): Using interlocking gears, wheels and a whole lot of paint, create the perfect birthday party t-shirt souvenir with the powers of engineering and geometry.

Coaster Creation: Team-up with your guests to build the best roller coaster using only foam, tape, marbles and most importantly—smarts! Then test concepts such as acceleration, gravity, and friction to improve your design!

Planetarium Show (additional $5.00 per person): Make your birthday a truly out-of-this-world event by discovering the wonders of our universe with a special presentation in our

Frost Science Planetarium.
Food and Beverage Package Options:
Food and beverage must be ordered from Frost Science. Outside food, with the exception of the birthday cake, is not permitted. Please see our birthday party menu for a list of all options.