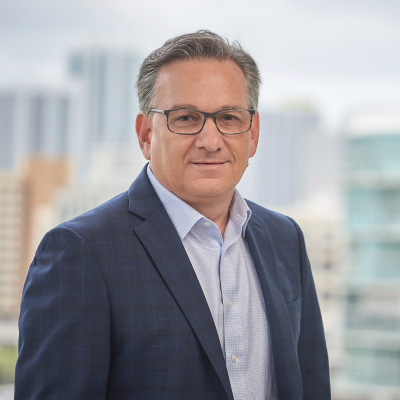 As President of the Phillip and Patricia Frost Museum of Science, Frank Steslow has over 30 years of experience as a scientist and executive manager in science-based, non-profit organizations, including eight years as the museum's chief operating officer.  As COO, Steslow was responsible for the overall operations for the museum in the areas of finance, communications, marketing, exhibits, environmental conservation, public programming and visitor services.
Before joining Frost Science, Steslow was the CEO of the Da Vinci Science Center in Allentown, Pennsylvania where he led the institution's expansion and successful opening of its new science center, and has spent the majority of his career directing the aquatic science, education, exhibition development and operations of public aquaria, including executive leadership positions at the Florida Aquarium and the New Jersey Academy for Aquatic Sciences, where for five years he was the Academy's COO.
Previous positions have included directing water quality, animal husbandry operations, aquatic life support systems, educational programming and exhibition development, and he has been involved in the construction and startup of several new facilities and major exhibition expansions.
Before his career in public aquaria, Steslow worked as an environmental scientist for the State of Florida and as a biological scientist for The National Marine Fisheries Service in the Bering Sea. As a researcher, he investigated applied water quality management of closed seawater systems, and helped develop several artificial seawater formulas.
Steslow received a Master of Science degree in environmental health and science from the University of South Florida where he researched uses of ozone and U.V. light to remove pathogenic bacteria and toxins from shellfish. He also holds a Bachelor of Science in microbiology from Pennsylvania State University.