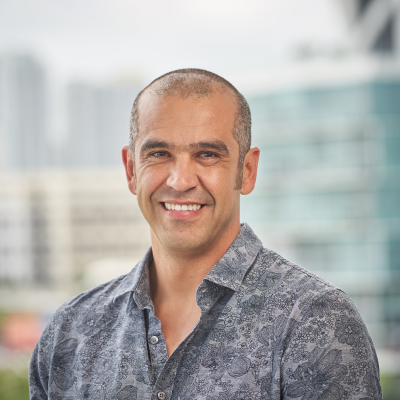 As director of MUVE (Museum Volunteers for the Environment), a volunteer-based habitat restoration project, Bretos empowers South Florida residents to restore urban coastal ecosystems such as mangroves, dunes and tropical hardwood forests. To date over 8,000 volunteers have participated in the restoration of 25 acres of living shorelines.
A marine biologist, Bretos conducts research throughout the Caribbean, including Cuba, where he has worked for 18 years studying coral reef health and a population of nesting green sea turtles at Guanahacabibes National Park. He has led international research expeditions, including a 1999 cruise to Navassa, an uninhabited island between Jamaica and Haiti, which led to the island's full protection as a U.S. National Wildlife Refuge. He joined Frost Science in 2007 before which he served as research scientist at Harte Research Institute for Gulf of Mexico Studies. Bretos started his career in marine conservation at The Ocean Conservancy, where he managed its Caribbean Biodiversity Program from 1998-2003.
A 2011 Kinship Fellow and 2010 Audubon Together Green Fellow, he holds a master's degree in marine affairs and policy from the University of Miami's Rosenstiel School of Marine and Atmospheric Science and a bachelor's degree in biology from Oberlin College.