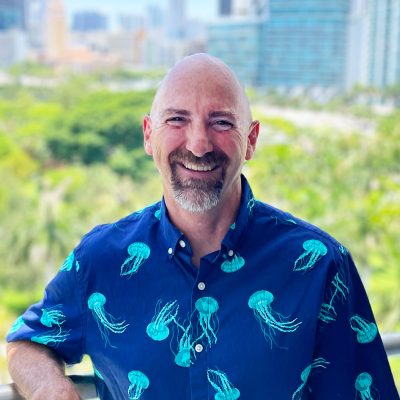 With over 20 years of experience in animal husbandry, Dane Tullock has worked for five aquarium facilities during his career. Tullock currently manages the daily care of the animal collection of the Aquarium at Frost Science. He also manages the Batchelor Environmental Center at FIU, Frost Science's off-site quarantine and holding facility.
Tullock began his career in marine science as an aquaculture technician at the Harbor Branch Oceanographic Institute in Fort Pierce, Florida, focusing on bivalve, ornamental fish and coral reproduction. He served as a member of the expansion team for the Virginia Aquarium in Virginia Beach and was on the opening team for Ripley's Aquariums in Myrtle Beach (SC), Gatlinburg (TN), and Toronto (Canada). During his time with Ripley's Aquariums, Tullock led a successful program to breed endangered weedy seadragons (Phyllopteryx taeniolatus).
Tullock first joined Frost Science as a senior aquarist, focusing on acquisitions and quarantine at the Batchelor Environmental Center at FIU leading up to the museum's opening in 2017. He earned a Bachelor of Science from Jacksonville University (FL) and did graduate work at the Florida Institute of Technology in Melbourne, Florida.