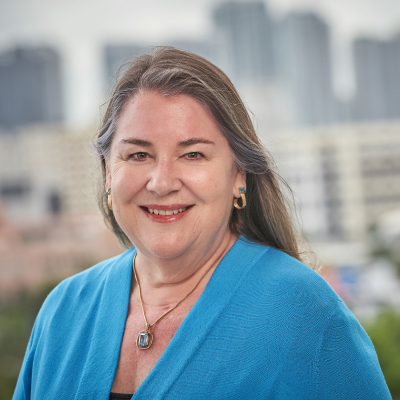 With over 25 years of experience creating professional development models and curricula, Cheryl Juárez oversees several education programs at Frost Science, including Move2Learn, an NSF-funded international research-practitioner collaborative project investigating how interactive museum exhibits can be designed to help young children express, communicate, and develop their scientific thinking, and ECHOS (Early Childhood Hands-On Science), a research-based program developed with funding from the U.S. Department of Education that is now used in 15 states to improve school readiness. She also served as Principal Investigator for Children Investigating Science with Parents and Afterschool (CHISPA!), an NSF-funded national consortium of 11 science museums and afterschool programs designed to increase science engagement among children and families in Hispanic communities. She also directed the NSF-funded Girls RISEnet National Museum Network, which helped informal educators connect minority girls to careers in science and engineering.
Prior to joining Frost Science, Juárez held positions as a bilingual educator, curriculum developer and technology trainer in the U.S. and México. She has also worked as a writer, penning the "Children and the Cultural Arts" column for South Florida Parenting while authoring several books, including "Places to Go with Children in Miami and South Florida," and writing for the PBS children's television series "Newton's Apple."
Juarez attended Occidental College, studied abroad at the Universidad Nacional Autónoma de México, and earned a bachelor's degree in Spanish letters from the University of California. Juárez also completed a Master of Education degree focused on bilingual/technology educations from Texas A&M University.