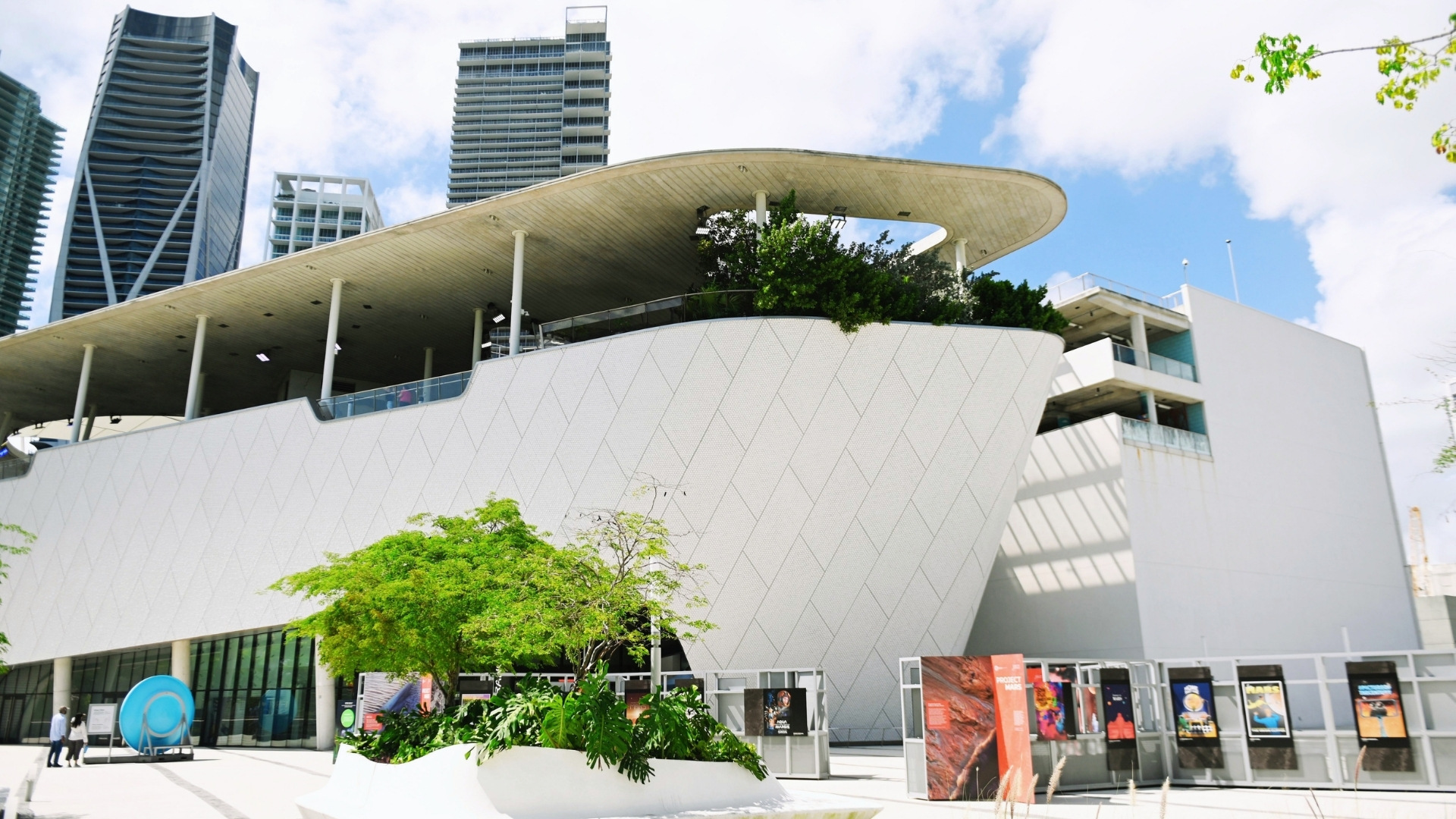 The Phillip and Patricia Frost Museum of Science is proud to partner with Miami-Dade County, the Miami-Dade County Fire Department, Nomi Health and Nicklaus Children's Hospital to host a free, three-day COVID-19 vaccination clinic for all members of the general public ages 12 and up. Getting vaccinated is an important step to protect yourself, your loved ones and our community from COVID-19. Here's what you need to know.
Clinic Days and Hours
To register for an appointment, please visit https://public.domo.com/cards/jR8l5 and select 'Frost Science Museum' as the location.
Clinic dates:
Friday, June 11 – 10:00 a.m. – 6:00 p.m.
Saturday, June 12 – 10:00 a.m. – 6:00 p.m.
Sunday, June 13 – 10:00 a.m. – 6:00 p.m.
For those receiving the Pfizer vaccine, the second dose will be scheduled onsite after you get your first dose.

Second dose clinic dates:
Saturday, July 3 – 10:00 a.m. – 6:00 p.m.
Monday, July 5 – 10:00 a.m. – 6:00 p.m.
What to Know
Vaccinations are available to all members of the general public (age 12+), regardless of whether you are a museum member or purchase a ticket to visit Frost Science that day. (Please note, you will still need a museum ticket or museum membership to enter the museum after your vaccination.)
Advanced registration for an appointment is encouraged; walk-ins will be welcomed as long as space remains available. Both the Pfizer and the single-shot Johnson & Johnson (Janssen) vaccines will be administered, and guests will be welcomed to return 21 days later to the museum to receive their second Pfizer shot. Minors between the ages of 12 – 17 years of age must be accompanied by a parent or guardian to be vaccinated.
Physicians and experts from Nicklaus Children's Hospital will also be onsite with information and resources regarding the vaccines, and to assist those interested in getting the vaccine with any questions they may have.
Need help getting here? You can take a FREE Lyft or Uber ride to and from your appointment. Visit https://www.lyft.com/vaccine-access or https://www.uber.com/us/en/coronavirus/ for more information.
Each person vaccinated will receive a free museum admission ticket to the museum (can be used either same day after your vaccination or any day through December 31, 2021). In addition, all who get vaccinated at the museum will receive a 10% discount at the museum's onsite Food@Science café and Science Store retail space on the day of their vaccination (just show your vaccination card with that day's vaccination date!).
Plus, everyone 18 years of age or older who is vaccinated at Frost Science will be eligible to enter to win a free Frost Science Family level membership and a $100 museum gift card. (To view contest rules, click here.)
The vaccination clinic location at Frost Science will be accessible via the museum's outdoor Science Plaza/Knight Plaza. See map below for location assistance. A public restroom is available at the museum for those getting vaccinated, accessible via Science Plaza near the vaccination clinic exit.
Get information on myths and facts about the COVID-19 vaccine from the Centers for Disease Control (CDC). Have questions about vaccines? Get the facts at the I Did It! website. Find out more about how an infectious disease like COVID-19 emerges, how vaccines work, and why vaccination will play a critical role in the next phase against COVID-19 in The Science of COVID-19.
Getting here
Frost Science is located at 1101 Biscayne Blvd. in Downtown Miami's Maurice A. Ferré Park, next to the Pérez Art Museum Miami. Frost Science is directly adjacent to the Miami-Dade Metromover, Museum Park station. Take the Omni Loop train to Museum Park station to arrive steps from the museum entrance.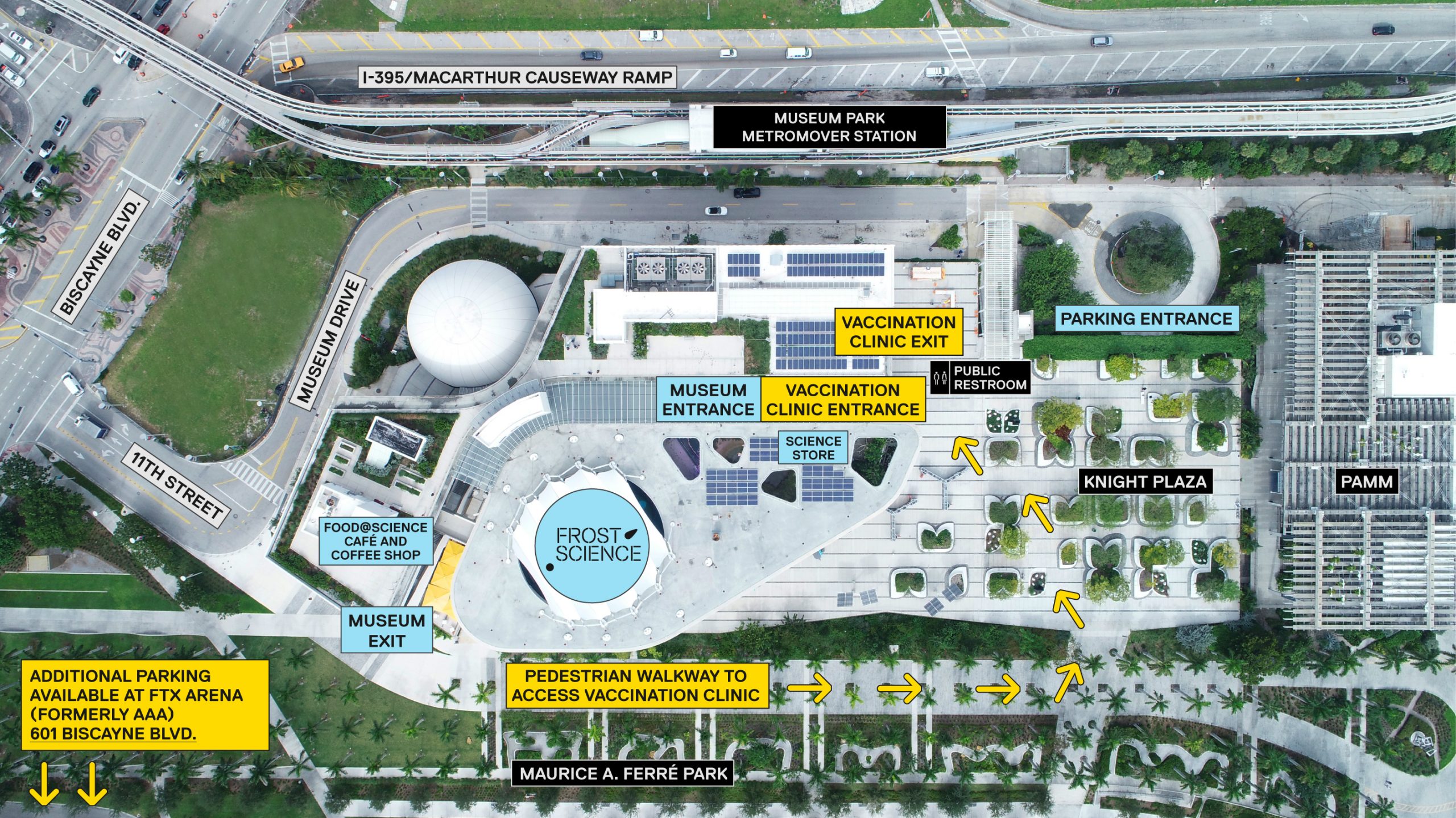 Parking
Self-parking is available in the museum garage for a flat rate of $15. To explore additional transportation and parking options, please visit frostscience.org/parking.
Plan Your Museum Visit: Science Happens Here
Frost Science has served the community in a myriad of ways – not only by inspiring people to enjoy science and understand its power to positively impact our world – but by being a champion for science learning and research, community access, environmental conversation, and animal care and rehabilitation.
The museum is open daily for visitation from 10:00 a.m. – 7:00 p.m. To purchase tickets and plan a visit, please click here.
Press and Media
If you are a member of the media and would like to receive more information, arrange interviews or receive images, please contact us via email at pr@frostscience.org.