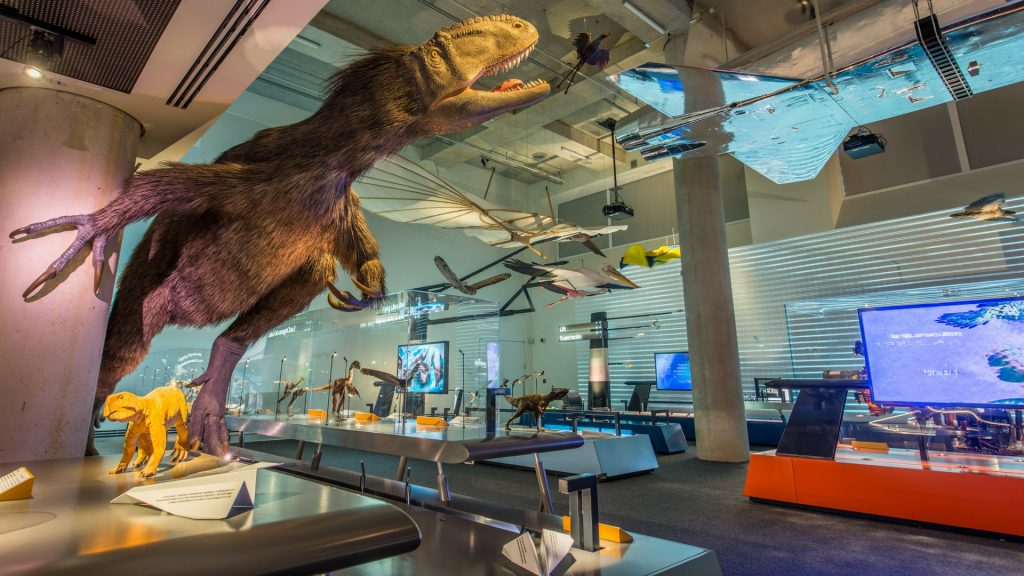 Science never sleeps…especially at the Phillip and Patricia Frost Museum of Science!
Pack your jammies—you're invited to join us on Friday, August 24, for the next Frost Science Overnight Adventure. Open to both families and youth groups*—and designed for children ages 5 to 17—our Overnight Adventures are a thrilling new way to experience the museum, as you spend the night exploring our interactive exhibitions, conducting experiments and meeting new people after dark.
August 24 Overnight Adventure: Blast from the Past
Just in time for back to school, let's go back in time! This night at the museum is all about dinosaurs. Throughout the evening, you'll visit our Feathers to the Stars exhibition, meet our extinct friend Bazil, the Yutyrannus, and learn how dinosaurs were the beginning of some animals still alive today!
You'll also make your own take-home fossils while learning how fossils form, enjoy a journey into the past with rooftop stargazing** and a late-night viewing of Asteroids: Mission Extreme.
Overnight Adventures cost $80 per person (whether adult or child). Dinner and breakfast are included in the cost.
Member Discount: Members will receive 10% off participation fee for this Overnight Adventure on Friday, August 24 program as a Back to School special rate promotion.
Member must be logged in to receive discount. Discount is only applicable to those listed on the membership. All members must have a valid membership card and show a photo ID upon entrance. Accounts with guest privileges will be allowed the appropriate number of guests to receive the discount but must be purchased by the membership cardholder.
Parking will be available from 5:45 p.m. to 8:15 a.m. for a $10 flat rate. Registration closes August 21, 2018.
For more information, click here or email overnights@frostscience.org.
*Please note: adults may not attend unless accompanied by youth participants.
** Rooftop stargazing is weather permitting.
Parking Instructions
Parking for Overnight guests is a $10 flat rate