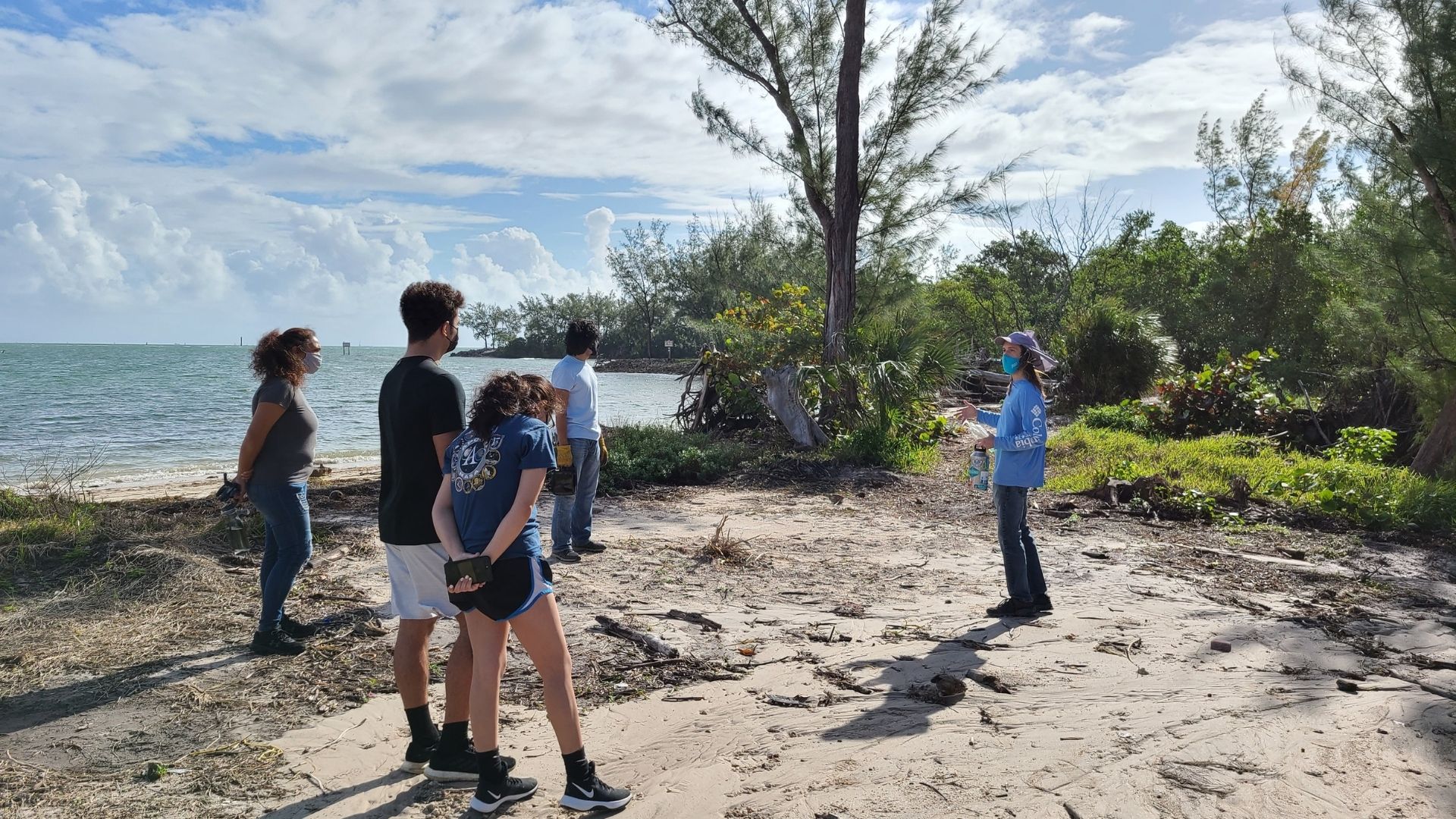 We are back! MUVE is excited to again provide opportunities for our community to give back to critical coastal habitats through philanthropic-based restoration workdays. On Saturday, January 23, 2021, MUVE will host small groups of volunteers to help remove nonnative vegetation and debris from The City of Miami's North Point Beach Park.
Instead of one large event, MUVE will be hosting shorter, smaller groups of 8 volunteers at a time. Volunteers will register in shifts on a fist come first serve basis. Shifts may be added depending on interest.
In order to reserve your spot, you must e-mail muve@frostscience.org by Thursday, January 21 at 5:00 p.m. A MUVE Manager will then reach out to you directly to review COVID safety protocols and provide each volunteer with a waiver, which must be completed before the event.
Currently, the available shifts are:
Shift 1 (two groups of 8) >> 8:30 a.m. – 10:30 a.m.: 10 spots available
Shift 2  (two groups of 8) >> 11:00 a.m. – 1:00 p.m.:  4 spots available
Please e-mail muve@frostscience.org with your requested shift and number of volunteers to reserve your spot today!
What new COVID protocols are we implementing?
In order to provide a safe workspace, MUVE has implemented multiple new protocols to keep both volunteers and staff healthy.
At the time of arrival at the MUVE worksite, all staff and volunteers must certify that (a) they are not exhibiting any COVID-19 symptoms, and (b) they have not, within the past ten (10) days, been in close contact (within 6 feet for 15 minutes or more) of any person known or suspected at such time to be infected with COVID-19 in order to be allowed to participate in the MUVE Workday.
All Volunteers must register online and complete all required paperwork (including event waiver) prior to the Volunteer Workday.
All volunteers and staff must wear a CDC appropriate face covering at all times. Volunteers must bring their own face covering.
All staff and volunteers and staff must maintain 6 feet of social distance at all times.
Volunteers will come in shifts, a max of 8 volunteers and 2 staff members.
All staff and volunteers must fully comply with all hygiene and sanitation protocols at all times.
All necessary tools will be sanitized before, during and after each shift.
Parking Instructions
Available parking at Virginia Key North Point Trails