This event is sold out. Please visit our calendar of events for upcoming events.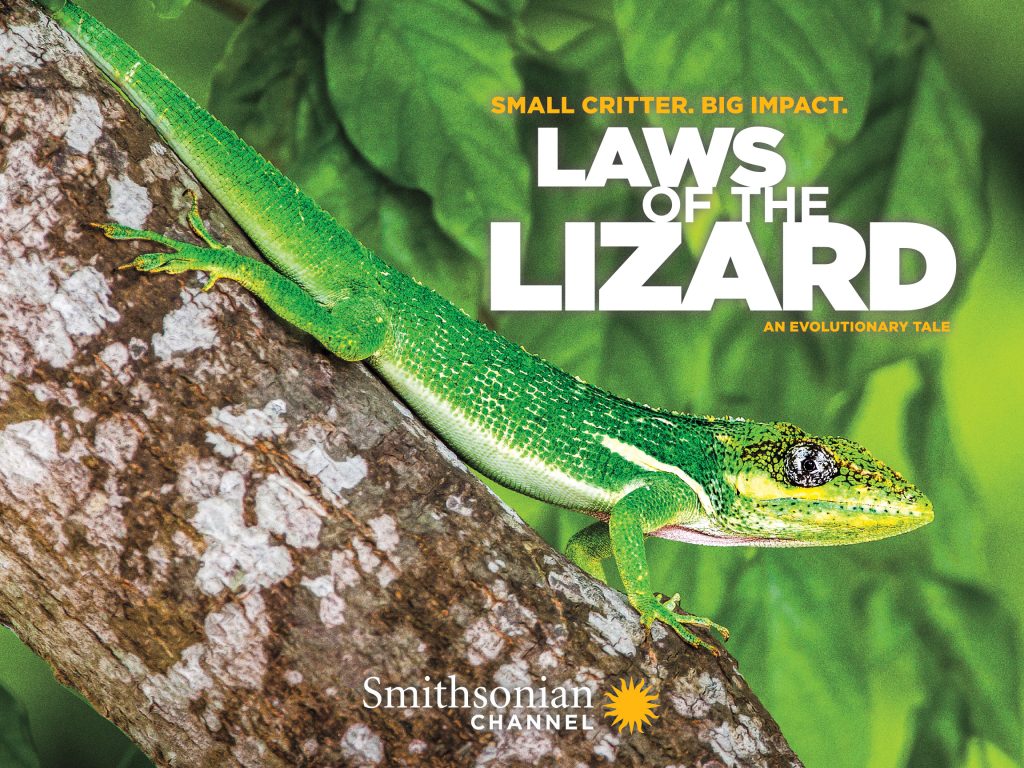 Meet the creature that scientists believe is the key to the story of life and how it evolves: the anole.
A backyard lizard is helping us decipher the past, present and future of life on Earth.
View a special complimentary screening of the new Smithsonian Channel documentary, "Laws of the Lizard." Few creatures have revealed as many biological secrets about the workings of life on Earth as the backyard lizard, also known as the anole. Join biologists Neil Losin and Nate Dappen on their yearlong examination of this humble but fascinating creature and its remarkable powers of adaptation. It's a whirlwind journey that takes us from Caribbean rainforests to the city of Miami, leading to incredible discoveries about the laws of the lizard.
Following the screening, join us for a brief panel discussion featuring:
Dr. Neil Losin, an award-winning filmmaker based in Miami, Florida. He has been using video and photography to tell stories about science, natural history, conservation, and adventure for more than a decade. Neil operates Day's Edge Productions with fellow biologist and filmmaker Nate Dappen. Together they directed, produced, and edited the documentary Laws of the Lizard. Before his career in film, Neil earned his Ph.D. from UCLA's Dept. of Ecology and Evolutionary Biology in 2012, studying the ecology, evolution, and behavior of invasive Anolis lizards in Florida and the Caribbean.
Dr. Jason Kolbe, an Associate Professor in the Department of Biological Sciences at the University of Rhode Island. His research focuses on the ecological and evolutionary responses of natural populations to recent, human-mediated global change, such as biological invasions and urbanization. For more than 20 years he has studied Anolis lizards in the Caribbean and U.S., including many species in Miami. Dr. Kolbe's anole research in Miami and the Bahamas is featured in Laws of the Lizard.
Dr. James T. Stroud, a Postdoctoral Researcher in the Department of Biology at Washington University in St. Louis, having recently graduated with his Ph.D. from Florida International University. His research focuses on connecting ecological processes to evolutionary patterns through research on Anolis lizard communities in Miami. James also leads a citizen science outreach project – "Lizards On The Loose" – run through the Fairchild Challenge, which annually involves thousands of Miami-Dade students conducting lizard surveys in their schools, backyards, and local parks.
Admission is complimentary. Tickets are limited to four per transaction.
Doors open at 6:30 p.m. Film starts promptly at 7:00 p.m. Seating is first-come, first-served. Food and beverage will be available for purchase.
Program will take place inside the Frost Planetarium. Please note admission to the event does not include museum admission. Museum exhibitions close at 6:00 p.m.
Parking Instructions
Onsite parking is available in the museum garage for $8 flat rate starting at 6:00 p.m.
We recommend using LYFT. Use code FrostScience for $5 off. Up to four rides for new users only.
Museum is adjacent to the Miami-Dade Metromover, Museum Park Station.