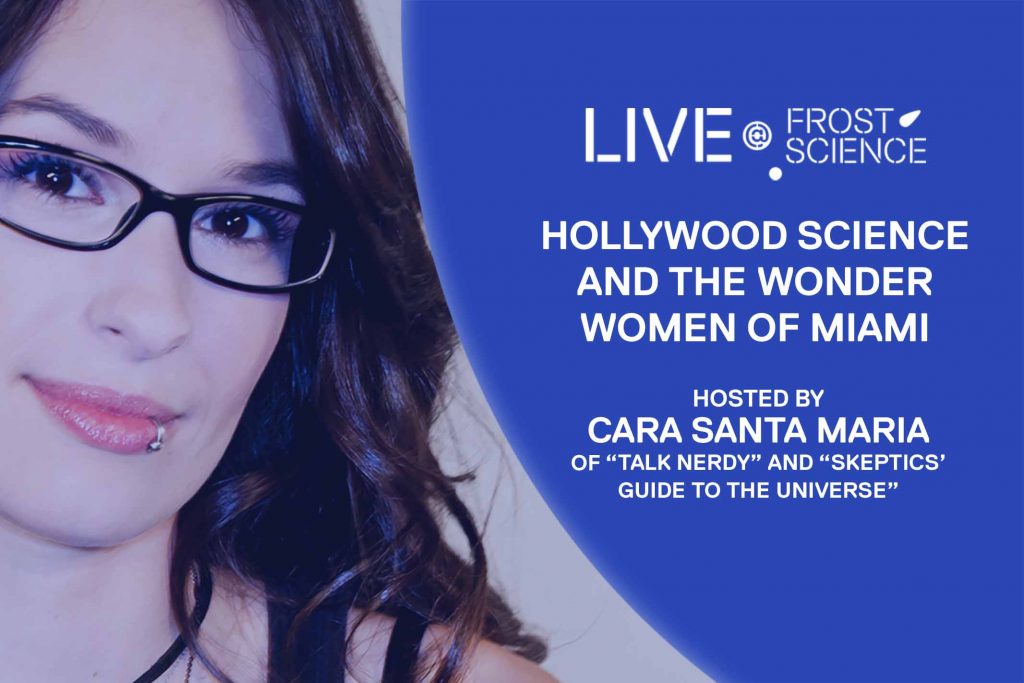 Join us for the next installment of our LIVE@Frost Science series, Hollywood Science & the Wonder Women of Miami, hosted by science communicator Cara Santa Maria of "Talk Nerdy" and "The Skeptics' Guide to the Universe."
On Wednesday, June 21, Cara will peel back the curtain on Hollywood filmmaking and describe how science makes its way to the silver screen. She'll also reveal what makes Wonder Woman such an icon of feminine strength and smarts.
Cara will also be joined by some of Miami's very own wonder women. Leading local female scientists Lisa Beal, Ph.D. (Associate Dean of Research and Professor of Ocean Sciences at the University of Miami's Rosenstiel School of Marine & Atmospheric Science), Elizabeth Reynolds Losin, Ph.D. (Director, Social and Cultural Neuroscience Laboratory and Assistant Professor, Department of Psychology at University of Miami) and Kilan Ashad-Bishop (Ph.D. Candidate, University of Miami and Member, City of Miami Sea Level Rise Committee) will wield their lasso of truth and give you a glimpse into their projects and research.

Doors open at 6:30 p.m. Program starts at 7:00 p.m. Seating is first-come, first-served.
General Admission– includes admission for one guest: $15 for non-members / $12.75 for members.
VIP Admission– includes reserved priority seating and a post-show reception from 8:30 p.m. to 9:30 p.m. with Cara Santa Maria and featured scientists with complimentary light bites, beverages and specialty cocktails: $40 for non-members / $34 for members.
Program will take place inside the Frost Planetarium. Space is limited – pre-purchase highly recommended. Tickets will be available at the door based on availability (credit card only; cash will not be accepted). Admission does not include access to the museum's exhibitions. Food and beverage will be available for purchase.
Tickets are non-refundable. Rain or shine.
Parking Instructions
Limited onsite parking. More at frostscience.org/parking.