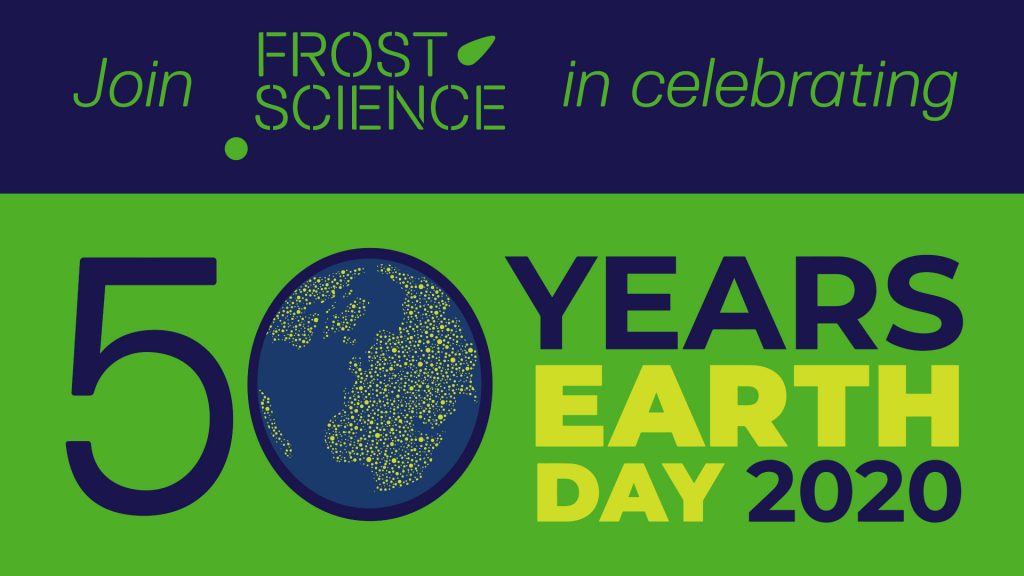 Wednesday, April 22, 2020
Celebrate Earth Day like never before with nine South Florida organizations uniting for one cause, our planet Earth. Explore some of the many magnificent wonders that Earth has to offer, including animals and plants, while also digging deeper into key environmental challenges facing our planet, and community, today. In honor of the 50th Anniversary of Earth Day.
Join us throughout the day as we present a number of family-friendly programs via digital platforms. #SFLEarthDay #EarthDay2020
*Please refer to each organization's social media pages on the day of the event for final details and confirmation of their programming.
Schedule of Events
Want a yard that's low maintenance, saves you time, has benefits for the planet AND lets you experience a little bit of Biscayne National Park @Home? Go Native! Learn about some of the plants found in Biscayne National Park, while also learning about the benefits of a native garden. Click here to watch.
Explore some fun and educational content and activities that you can do from home! A new lesson will be available here.
Do you know where your water comes from? There are 8.7 million residents of South Florida (1 out of 3 Floridians) who rely on the Everglades for their water supply. Join us to learn more about The Everglades Foundation's educational programming as we navigate through the Everglades watershed using an interactive presentation focusing on water usage, where our water comes from, and the importance of the Everglades ecosystem. Understanding the Everglades watershed ensures future generations of Floridians understand the ecological and economic value of the Everglades ecosystem. Water is important to the health of the Everglades, and the health of the Everglades is important to us! Click here to watch.
On Earth Day, let's shellebrate with sea turtles! South Florida is one of the most important places in the world for sea turtle nesting. Where do they go after they leave our beaches? Join us as we share insights from nearly 20 years of tagging and tracking leatherbacks in South Florida, and how our actions locally can have impacts on conservation globally. Learn about one of the Museum's celebrities and an ambassador for his vulnerable species, MODS' resident loggerhead sea turtle, George, before he swims out to sea! Click here to RSVP.
Join Palm Beach Zoo for a three-part series about their Malayan tigers, including a brief introduction to the three tigers, a behind-the-scenes look at the relationships between the tigers and their zoologists, and a special segment focused on tiger mating and an up close look at a tiger sonogram. Click here to watch.
In honor of the 50th anniversary of Earth Day, join Frost Science as they discuss three of the biggest environmental challenges facing our planet, and what you can do from home to make a positive change. Learn more about citizen science projects that are making local and global changes, including Frost Science's Museum Volunteers for the Environment (MUVE) program and the City Nature Challenge. Presented with support from the Miami Downtown Development Authority. Click here to RSVP.
Connect with Orchid Biologist, Jason Downing to learn more about the Million Orchid Project aiming to reintroduce native orchids to Miami and its surrounding neighborhoods. Discover how with the help of students and volunteers South Florida could become a natural orchid paradise once again! Click here to learn more.
Tune in to see Wildlife Biologist & Gator Boy Chris Gillette tell us how alligators and other crocodilians are impacted by climate, temperature and environmental changes in the Florida Everglades as well as other parts of the world and find out what you can actively do to help protect our environment. Click here to watch.
Conclude your Earth Day celebration with a reflection on the intersections of art and environment with two fascinating and unprecedented discussions bringing diverse artists, writers and scientists together. Presentations in partnership with Artists in Residence in Everglades (AIRIE).
Courtesy of the Smithsonian Channel, view the "Last Call for the Bayou" documentary featuring stories of loss, hope, fear, and fight from residents and responders of the shrinking Louisiana coast. The Mississippi River Delta is essential to the U.S. economy. It allows the passage of goods worldwide, and it's home to a $2.4 billion fishing industry. It's also rapidly disappearing; every 100 minutes, wetland the size of a football field is lost to open water, presenting a huge environmental threat to America and to the coastal residents who call the area home. Follow the stories of individuals who are experiencing this calamity firsthand and see how they're fighting to keep their cultures, livelihoods, and homes from washing away.
The streaming link to this free digital documentary will be made available through our social media channels on Wednesday for viewing on Earth Day.
Earth Day South Florida Partners