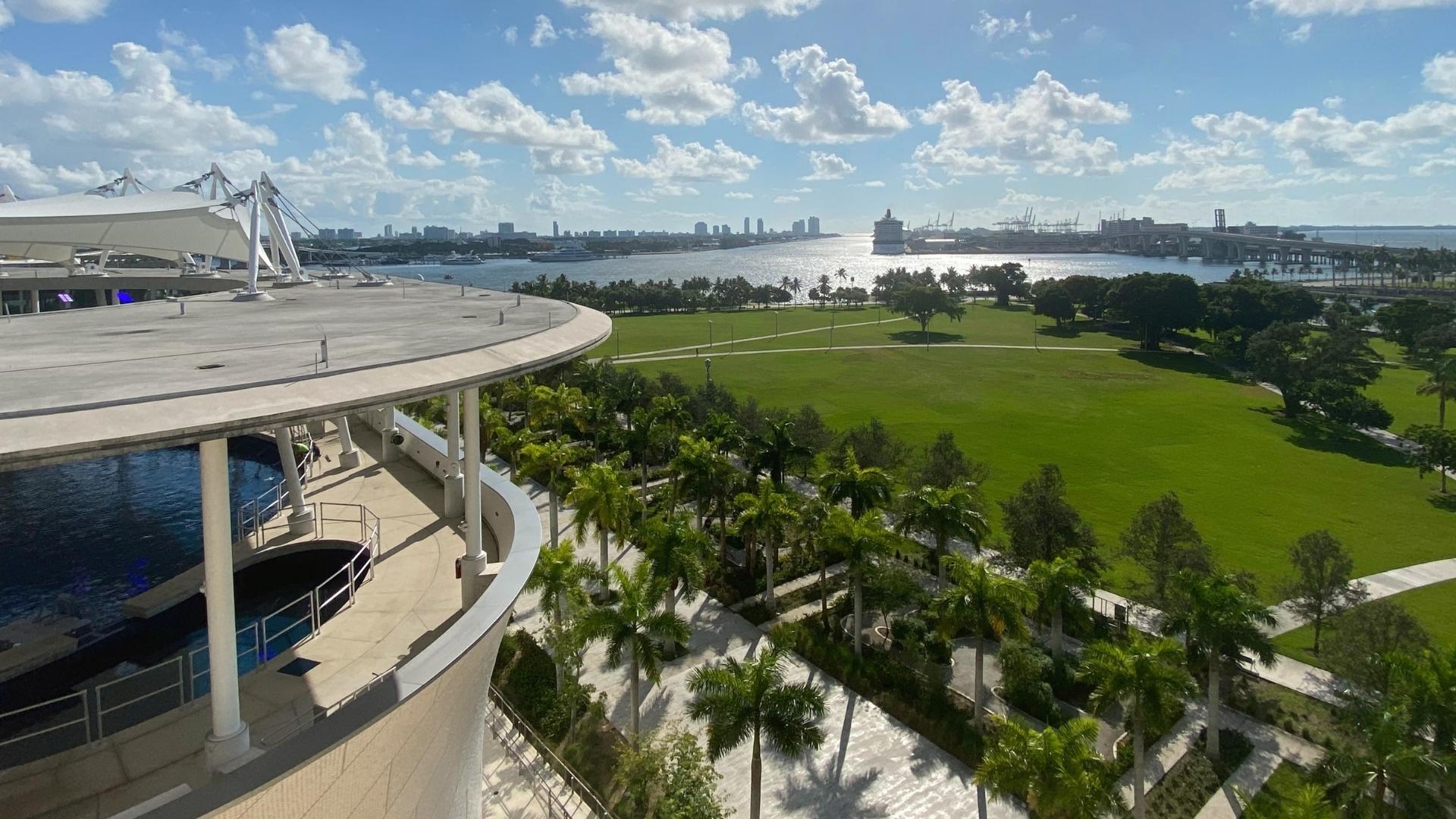 Join us to celebrate Earth Day as we work towards "Understanding the Past and Imagining the Future."
In this day of hands-on climate activities, you can tackle environmental engineering design challenges with our Frost Science education team and explore ancient sea levels with local researchers. Then, see how local government agencies, non-profits, and companies like FPL are imagining a brighter future with climate-friendly technological innovations.
Want to go green this Earth Day? You can help our conservation program assess South Florida biodiversity by participating in a "City Nature Challenge" walk. Afterwards, discover the impact of coastal restoration and register to join a future beach clean-up, with our conservation program MUVE (Museum Volunteers for the Environment).
Earth Day 2022 programming is free with paid museum admission. Special programming will take place from 11:00 a.m. to 4:00 p.m.

Programming Schedule

FPLSolarNow
Main Atrium Level 1
Solar energy is playing an important role in building a brighter future. SolarNow is bringing solar to local communities while inspiring future generations to learn about solar energy and its benefits – stop by the booth to get a special solar gift.
City Nature Challenge
Main Atrium Level 1
Learn how you can become a citizen scientist with your phone, and help Miami win this year's City Nature Challenge!
Milkweed Planting
Main Atrium Level 1
Dig into native plants as you start your very own butterfly garden.
Miami-Dade Office of Resilience
Main Atrium Level 1
The Office of Resilience's mission is to lead Miami-Dade County to a resilient and environmentally sustainable future by identifying vulnerabilities, coordinating stakeholders and facilitating innovative solutions. Come explore Miami-Dade's Sea Level Rise Strategy and Climate Action Strategy and learn more about how YOUR COUNTY is working for you to address climate change.
Imagining a Future Below 1.5 with The Climate Initiative
Main Atrium Level 1
Explore with thermochromatic paint to identify and represent a cherished space in your community. This activity will ask you to consider how climate change might impact your relationship with our local Miami-Dade landscape and offer resources to protect the invaluable places that make our community home.
In My Shoes VR Experience
Power of Science Level 1
#InMyShoes is an immersive experience where participants can experience first-hand the beauty & sacredness of Florida's natural ecosystems, currently threatened by climate inaction. From the everglades to the springs, and oceans, the impacts of the experience will last long after the immersion has ended; evoking interconnectedness, community unity, and public support for solutions.
The Science of Earth's Most Powerful Storms – Hurricanes with 'Canes on 'Canes Hurricane Outreach
Power of Science Level 1
Join the University of Miami's "Canes on Canes" outreach group to learn more about the science behind the most powerful storms on this planet — hurricanes! Presenters will talk about how hurricanes form, discuss recent cutting-edge research, and host several interactive tabletop demonstrations for all ages.
NOAA's Atlantic Oceanographic and Meteorological Laboratory
Power of Science Level 1
NOAA's Atlantic Oceanographic and Meteorological Laboratory (AOML) has an interdisciplinary team of scientists dedicated to understanding our oceans and coasts, aiding in the conservation and management of marine ecosystems, and predicting changes to these resources. Come learn about the role of excess carbon dioxide from the atmosphere and ocean pollution on marine life and our local ecosystem.
Tale of Two Terrariums with Catalyst Miami
Terrace Level 2
Miami is hot, and temperatures are rising! But there is one helpful solution: tree canopies! Come learn more about how plants and trees can keep your family cool and what we can do to reduce the urban heat island effect.
The CLEO Institute
Terrace Level 2
Come join the CLEO Institute in celebrating Earth Month! Test your climate knowledge and learn how to get involved in fighting the climate crisis.
Dust Imagery with Dr. Helena Solo-Gabrielle from the University of Miami
MeLaβ Level 2
With the usage of a Stemi DV4 Microscope, guests will be given the opportunity to analyze dust samples and create their own dust sample.
Mission: Microplastics
Dive Bar, Aquarium Level 3
Can you identify and remove microplastics from the sand? Come try out your microscope technique as you learn how to keep microplastics from entering our oceans with Frost Science educators.
Sea Level Rise and Climate Resilience + Field Research Technology
Terrace Level 3
Join researchers from FIU's Institute of Environment to learn more about the research and citizen science opportunities associated with climate-related responses for human and natural environments. You'll also hear about the cutting-edge technology used to explore and collect data in environments around the world.
"Solar Powered Boats" with the Miami Sunset Senior High School Engineering Magnet Program
Terrace Level 3
Sun equals speed in this fast moving boating challenge. Guests will use recyclable materials to create seaworthy vessels that harness the power of the Sun.
Today's Material Solutions for Tomorrow's Complex Problems with the University of Miami's College of Engineering
Terrace Level 3
Come explore future technology and how it is used to combat climate change!
How we use the earth's natural elements for strong bones!
MeLaβ Level 3
The MetA-Bone trial is testing how calcium and fiber supplements can improve bone mass in children when they are growing the most. Calcium and fiber are natural elements found in the earth and are extremely important for our bones and general health.
Predator Vs. Prey
Mammoth: Ice Age Giants Level 4
Get up close and personal with some real animal skulls as you discover the connection between environment and animal features.
Flooded Florida: Lessons from a Warmer Past with UM
Mammoth: Ice Age Giants Level 4
Did you know that Miami was underwater 120,000 years ago? With hands-on activities led by Dr. Sam Goldberg from the University of Miami's Rosenstiel School of Marine and Atmospheric Science Fossil Coral Group, learn about the evidence geologists use to reconstruct past environments and how we can learn from them for the future.
Grey vs Green Infrastructure
River of Grass Level 4
Can you save your house from rising tides? Learn how when you explore different solutions to sea level rise in our engineering design challenge!
African Monkey Hybridization with Florida Atlantic University
River of Grass Level 4
Connect with FAU's Primatologist, Dr. Kate Detwiler on her fascinating research on primate hybridization and the importance of conservation of Africa's Congo Basin rainforests.
Wild Miami: Special Preview Screening with Director Q&A
Trish and Dan Bell Conference Rooms Level 5
Miami Wild is the strange-but-true tale of wildlife in "The Magic City" – the only city where peacocks dance in the streets, tropical lizards adorn every tree, and raucous parrots nest in the power lines. Narrated by Miami icon and GRAMMY-award winner Gloria Estefan, Miami Wild reveals the surprising creatures, native and invasive, that make Miami the wildest city on Earth.