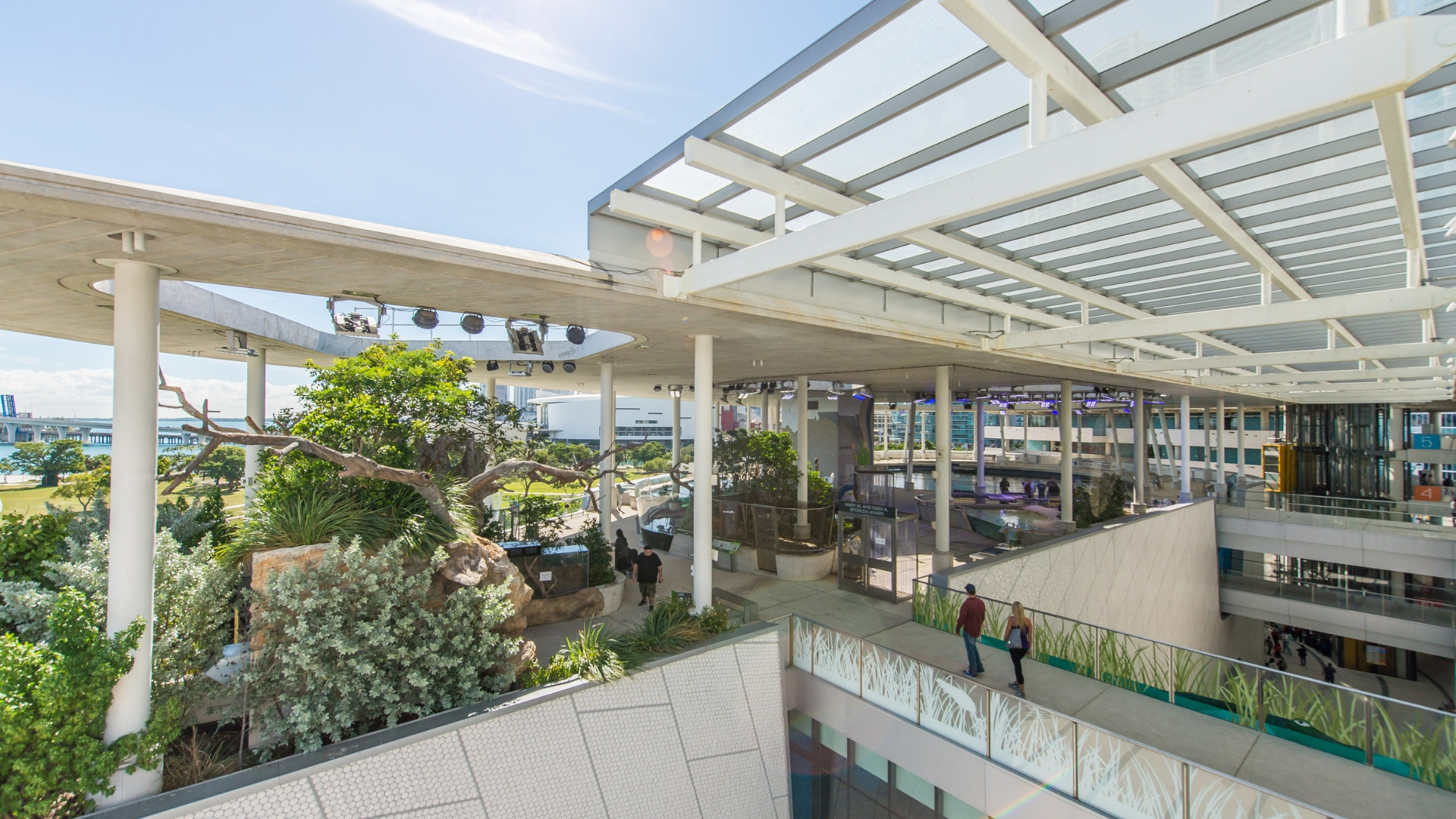 April 20: Celebrating Planet Earth
Join us as we celebrate Earth Day and explore some of the wonders that make it unique! Start your day off with a chance to make a difference with a MUVE led clean-up of our local green spaces and bay. Then continue your day by joining the global movement to take care of our planet by learning about the three Rs – Reduce, Reuse, Recycle – before chatting with our experts and meeting some of our Frost Science endangered and threatened species through special animal encounters. Connect with onsite scientists who are working on making corals more resilient so they can survive in warmer oceans and discover how important bees are in pollination by participating in a bee pollination relay race. Don't miss out as it's sure to be a buzzing day!
Schedule of Events
Mini-Me Science: Seedlings Planting
10:30 a.m., Knight Learning Center, Level 5
Mini-Me Science is Frost Science's program designed for you and your little one (children ages four and younger). program designed for you and your little one (children ages four and younger). Today's activity: digging into what plants need to grow healthy and strong, and exploring the different parts of a plant with a plant dissection! Paid registration is required. If interested, please inquire at Member and Guest Services or visit frostscience.org/minime.
Get MUVE-ing
10 a.m. for Cleanup, Science Plaza
11 a.m. to 4 p.m., Main Atrium
Jumpstart your day by making a difference with a Museum Volunteers for the Environment (MUVE) led clean-up of our local green spaces and bay (10:00 a.m.). Then, continue the conversation on marine debris and citizen science while learning ways you and your friends can help protect Miami's ecosystems.
Bird Behavior
11 a.m. to 4 p.m., Aquarium: Royal Caribbean Vista, Level 4
Fly into the mindset of a hungry bird as you play a game where you compete for food with
other birds while learning about the costs and benefits of living in a flock, and how biologists and ecologists, including Dr. Erik Noonburg and Dr. Rindy Anderson, use this behavior to predict animal responses to a changing environment.
Drive Electric for Earth Day
11 a.m. to 4 p.m., Level 1
Join the revolution and discover more about the technology and environmental benefits of electric vehicles and solar energy from local partners including the Southern Alliance for Clean Energy, Brickell Energy and Solar United Neighbors. Then connect with the Sierra Club and the CLEO Institute on ways we can each reduce our carbon footprint in our community.
Everglades National Park
11 a.m. to 4 p.m., Outdoor Terrace, Level 4
Link up with representatives from the largest subtropical wilderness in the United States to discover fun facts about the numerous rare and endangered species that call it home. Learn about the work being done to save and restore the waters of the Everglades and even get a microscopic look at water and periphyton samples!
Meet the Inventors
11 a.m. to 3 p.m., Knight Learning Center, Level 5
Get a behind the scenes look at ongoing researching aimed at helping endangered corals survive in rising ocean temperatures.
Water Walk with UNICEF
11 a.m. to 4 p.m., Level 2
Join UNICEF as they raise awareness about the impact of the global water crisis and what UNICEF is doing to improve access to water, sanitation, and hygiene.
Beezy Bees
11:15 a.m., 12:15 p.m., and 3:15 p.m., MeLaB, Baptist South Florida Gallery, Level 1
Buzz around the MeLaB by taking part in a pollination relay race and discover the important role bees play as pollinators!
From Trash to Treasure
11:30 a.m. to 3:30 p.m., Level 3
The life of a plastic bottle does not have to end in a landfill. Uncover how some everyday items can be reused to make something new as we discuss the three R's and take a pledge to take better care of our planet.
Gator and Gopher Tortoise Chat
11:30 a.m. and 1:30 p.m., Vista, Level 4
Celebrate biodiversity by chatting with our animal husbandry team about our Frost Science endangered reptiles.
African Monkey Hybridization
12:00 p.m. to 2:00 p.m., Outdoor Terrace, Level 4
Connect with Primatologist, Dr. Kate Detwiler, on her fascinating research on primate hybridization and the importance of conservation of Africa's Congo Basin rainforests.
Green Natives
2:00 p.m., Roof, Level 6
Meet our resident horticulturist for a closer look at the native plants on our rooftop garden.
LEED Certification Ceremony
2:30 PM, MeLaB Stage, Baptist Health South Florida Gallery
Join the U.S. Green Building Council (USGBC) for a short presentation about sustainable design as they award Frost Science with LEED (Leadership in Energy and Environmental Design) Gold Certification for its outstanding practice in the design, construction and operation of a sustainable and energy-efficient facility.
Click here to download the schedule of events.