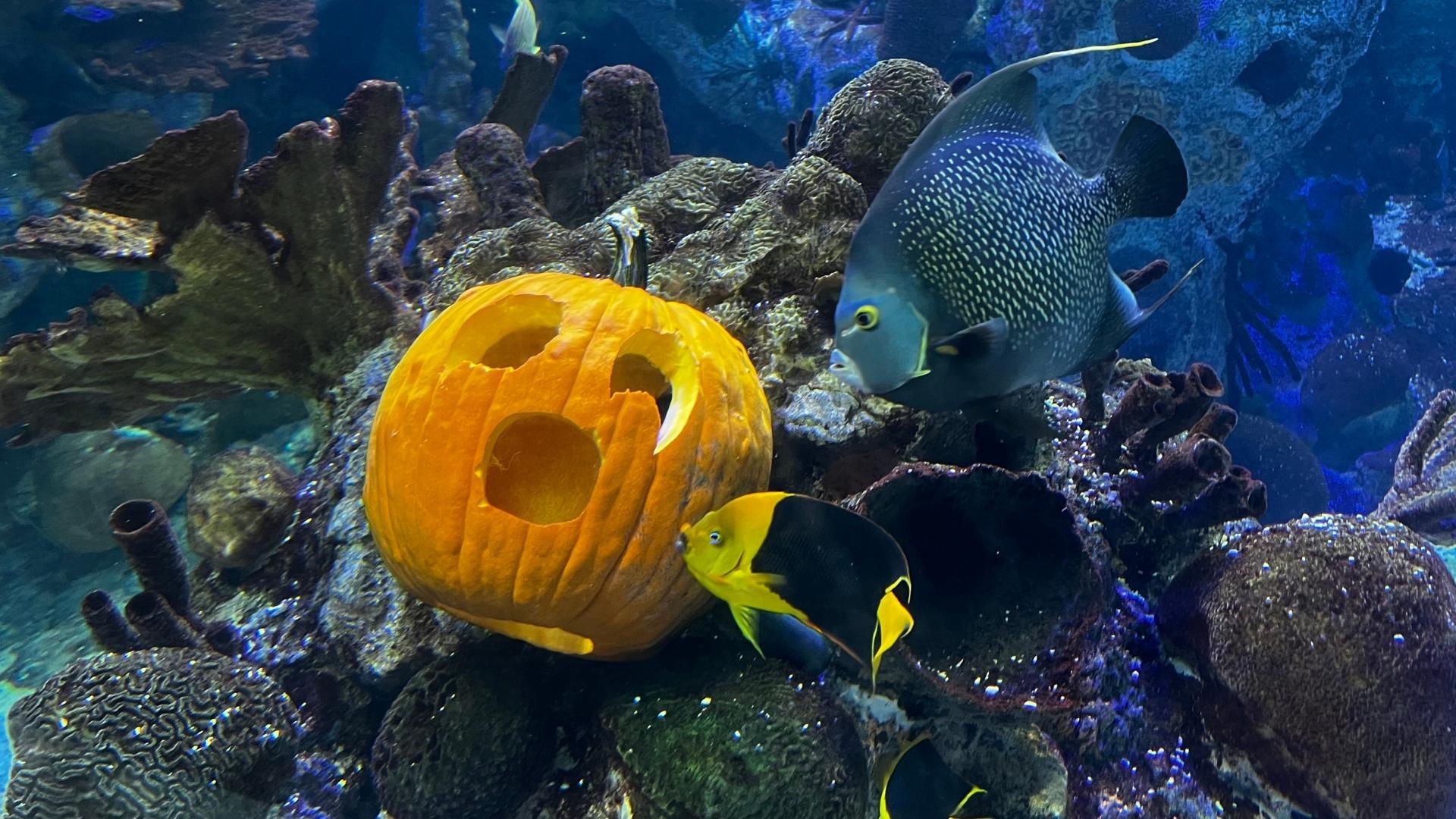 Join us on Saturday, October 29th for a spine-tingling science adventure. From colorful chemistry concoctions to eye-catching and eerie experiments, you'll spend the day doing hands-on science that's so fun, it's almost scary. You'll also meet scientists from local universities and professional organizations, including the South Florida Chapter of the American Chemical Society, who are helping Frost Science celebrate National Chemistry Week.
The 6th Annual Spooky Science Monster Mash is generously sponsored by the Miami Downtown Development Authority, and is also kindly supported by Casa Smiles Pediatric Dentistry & Orthodontics, Thermal Concepts Inc., Jackson Health System, and media support by Kiddos Magazine.
Spooky Science Monster Mash programming is free with paid museum admission.
Click here to download the full schedule.
Live Shows
Underwater Pumpkin Carving – 11:30 a.m.*
Aquarium, Reef Fishes Exhibit Level 3
Aquarium, Mangrove Forest Exhibit Level 3
*Capacity is extremely limited.
Slithering Chat – 1:00 p.m., 2:00 p.m.
Knight Learning Center Picnic Terrace Level 5
The Cursed Pumpkin Patch Stage Show – 12:00 p.m., 1:30 p.m., 3:00 p.m.
Ocean Gallery Stage, Power of Science Level 1
Our pumpkin patch has been cursed! There are pumpkins oozing, gutted, and exploding all over. Join our mad chemist as she examines the cause behind this wicked magic.
Programming Schedule
Brush Away the Sugar Monsters!
with Casa Smiles
Power of Science Level 1
Treats are sweet, but don't forget your teeth! Pass by to pick up a new toothbrush* and other treats.*while supplies last
Candy Corner with Thermal Concepts Inc.
Power of Science Level 1
Pick up some exciting Halloween goodie giveaways* that put your math skills to the test.*while supplies last
Halloween Healthy Hands with UHealth Jackson Children's Care
Power of Science Level 1
Use a black light to get up close and personal with the ghoulish germs on your hands, then take home your own hand sanitizer.*While supplies last
Barry University Chemistry Club
Terrace Level 2
Discover chromatography using markers on paper and on fabrics.
Nova Southeastern University
Terrace Level 2
Explore the fluorescing objects and the science behind the glow.
FIU Biscayne Bay Campus American Chemical Society Student Chapter
Terrace Level 2
Learn about the properties of fabrics and dyes with a spooky twist.
Health Lab: The Sockets Lab
MeLaβ Level 2
Jumpstart your day by helping us put our skeletons back together. Discover how the bones in your body work and test your knowledge.
Health Lab: The Trick of Creating Treats
MeLaβ Level 2
Become a candy chemist and learn how our senses play a pivotal part in creating and experiencing flavors. Then, create your very own invisible candy.
Corny Candy Science
MeLaβ Level 3
Do you think you know how much sugar is in your Halloween candy?! Can you tell what a candy is just by the smell? Learn about the wonders of candy and how our bodies interact with it.
Morticia's Laboratorium with FIU Center for Children and Families
Spark of Science Level 3 Outdoor Terrace
Dig deep into the inner workings of the brain and discover everything about neurons and connections.
Who Glows There?
Aquarium Dive Bar Level 3
Spooky lights in the night! What can it be? Explore the possibilities of what is glowing all around you. Learn about fluorescence and bioluminescence that abounds in our everyday lives.
FIU MetA-Bone Trial
Terrace Level 4
The MetA-Bone Trial is studying the effects of a soluble corn fiber supplement on bone mass in healthy children aged 9-14 years. Join them to discover a spooky twist on their research!
FIU Chemistry Society
Terrace Level 4
Test a chemical wizard brew with hydrogen peroxide and yeast.
Predator vs. Prey
Mammoths: Ice Age Giants Level 4
Help us solve the age-old mystery of the werewolf! Discover the differences between predators and prey.
Haunted Mad Science Lab
Knight Learning Center Level 5
Learn about the advancements in physics to protect us from zombie populations, find out how scientists have created a device that traps ghosts, and assist our witches in creating an attractive potion in their cauldron.
American Chemical Society
Knight Learning Center Level 5
Help solve a Halloween mystery using forensics.
**Special Downtown Miami Resident Promotion** On behalf of the Miami DDA, residents of Downtown Miami will receive a 10% discount on purchases at the Science Store, in addition to a complimentary cake pop at the Food@Science café. Promotion is valid with a photo ID showing a Downtown Miami zip code**. The cake pop offer is limited to one per adult photo ID. **Applicable Zip Codes: 33128, 33130, 33131, 33132, 33136, 33137 (Offers are valid for non-members only.)
Costume Guidelines
Costumes must be family-friendly and may not be offensive or objectionable as determined by museum personnel.
Costume may not include a component that covers the face; headwear is permissible so long as the face remains visible.
Costumes may not be primarily based upon a depiction of any particular race, religion, nationality, or condition of disability.
Costumes may not make an overt political statement of any kind.
Costumes may not contain any weapons or any item that might be mistaken for a weapon.
Costumes may not contain sharp objects or other components that might pose a risk to a guest or animal.
Costumes may not drag on the ground.
Guests who do not adhere to these guidelines may be refused admission or asked to leave the museum unless his/her costume can be modified to adhere to these costume guidelines.

All interpretation/implementation of these Costume Guidelines shall be made by museum personnel in their sole discretion. These Costume Guidelines are subject to change without notice.
Support provided by:
Parking Instructions
Onsite parking is available in the museum garage.