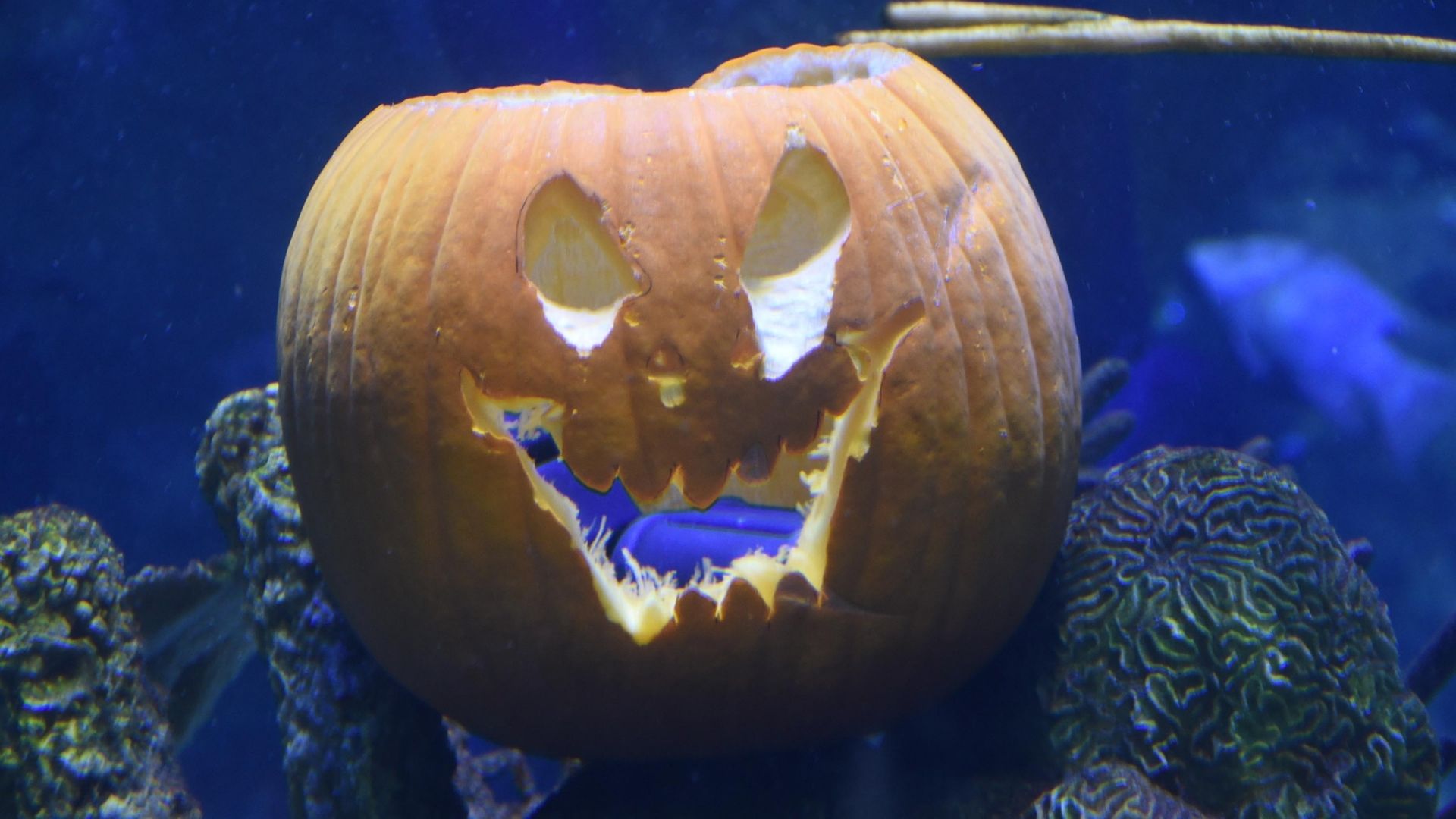 Due to limited capacity, museum admission tickets on Saturday, October 31 for the 4th Annual Spooky Science Monster Mash may not be available at the gate. Pre-purchase is highly recommended to ensure entrance. Face coverings are mandatory for all guests, ages 2 and older.
What lurks throughout our hallowed corridors on the cusp of the most frightening day of the year? Nothing that science can't explain!
Suit up in your favorite costume (don't forget your face covering!) and join us for our 4th Annual Spooky Science Monster Mash on Saturday, October 31. We're putting a unique and safe Frost Science spin on Halloween with special programming throughout the day. You'll also get a chance to experience our newest special exhibition, "Nature's Superheroes: Life at the Limits," a fascinating glimpse of the breathtaking diversity of the natural world and the power of natural selection. You'll discover nature's most unusual, extreme and bizarre creatures!
Take a photo with Frankenstein, spot the pumpkins in our Aquarium exhibits, walk-thru our special "Mad Science Lab" and more. Let us keep you spellbound as you discover how fun science can be! The 4th Annual Spooky Science Monster Mash is generously supported by UHealth Jackson Children's Care, Thermal Concepts Inc., and local chemists from the American Chemical Society in celebration of National Chemistry Week. Media support provided by Kiddos Magazine.
Coming in costume? We'll give you a complimentary collectible Halloween mini-button* for getting into the spirit.
Spooky Science Monster Mash programming is free with paid museum admission. All programming is ongoing throughout the day.
*While supplies last.
Programming schedule

Mad Science Lab
Knight Learning Center, Level 5
10:15 a.m. to 5:15 p.m.
Explore sticky webs, surprising potions, and things that glow before an electrifying conclusion to this walk-through experience.
Pumpkin Patch Scavenger Hunt
Museum Wide
Help! Our pumpkins for our pumpkin patch have gone missing. Can you track down the pumpkins hidden around the museum using fun science clues? Pick up your clue sheet when you enter the museum and take a picture with each pumpkin then visit the Mad Science Lab to get a special treat!
Not So Scary Photo-Boo with Kiddos Magazine
Main Atrium
Take a selfie or a group photo with a fun Halloween themed background with Kiddos Magazine before grabbing a goodie bag.*
*While supplies last.
Goodie Giveaway with Thermal Concepts Inc.
Main Atrium
Join Thermal Concepts Inc. for exciting Halloween themed goodie giveaways* as you trick or treat around the museum.
*While supplies last.
Halloween Health with UHealth Jackson Children's Care
Main Atrium
Shine a (black) light on the spread of germs with a spooky look at your hands before getting your very own hand sanitizer.*
*While supplies last.
Sticking with Chemistry with the American Chemical Society
Knight Learning Center, Level 5, Times will vary
Join the American Chemical Society as they celebrate National Chemistry Week with festive Halloween themed demonstrations including shocking ghostly movements, a pumpkin sink or float challenge, and more!
Costume Guidelines
All costumes must also meet the museum's safety protocols, including the mandatory use of a face covering for all guests, ages 2 and older.
Costumes must be family-friendly and may not be offensive or objectionable as determined by museum personnel.
Costume may not include a component that covers the face as faces must be visible to ensure proper face covering usage; headwear is permissible so long as the face remains visible.
Costumes may not be primarily based upon a depiction of any particular race, religion, nationality, or condition of disability.
Costumes may not make an overt political statement of any kind.
Costumes may not contain any weapons or any item that might be mistaken for a weapon.
Costumes may not contain sharp objects or other components that might pose a risk to a guest or animal.
Costumes may not drag on the ground.
Guests who do not adhere to these guidelines may be refused admission or asked to leave the museum unless his/her costume can be modified to adhere to these costume guidelines.

All interpretation/implementation of these Costume Guidelines shall be made by museum personnel in their sole discretion. These Costume Guidelines are subject to change without notice.
Parking Instructions
Onsite parking is available in the museum garage.