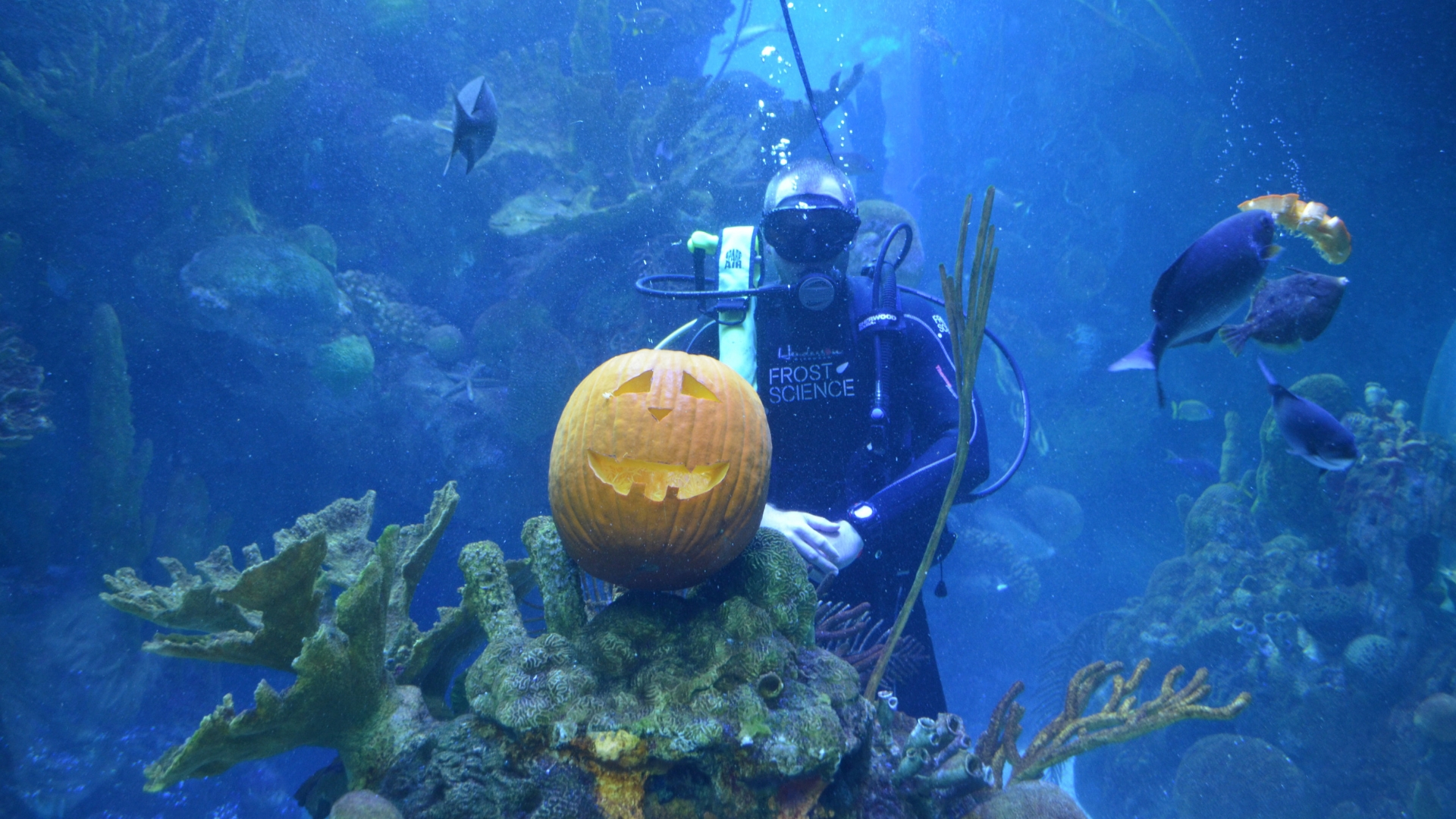 "Double, double, toil, and trouble; Fire burn, and cauldron bubble!"
– William Shakespeare.
The magic of science abounds for our 3rd Annual Spooky Science Monster Mash. Get ready for Halloween with a new potions show, Into the Cauldron, where chemistry helps us change the color of water, create bubbling concoctions, and even make water disappear before your very eyes. Then dive below the surface of our aquarium habitats to view underwater pumpkin carving before joining us for a live animal encounter with one of our owls, all while learning about the conservation work we do here at Frost Science. Next, uncover the mysteries of marvelous metals with the American Chemical Society before joining us for a delectably creepy eyeball dissection, and more! Let us keep you spellbound as you discover how fun science can be!
You can also suit up in your favorite costume and explore the museum's newest special exhibition, "A Mirror Maze: Numbers in Nature." The exhibition exposes and explains the mathematical patterns that surround us every day in the natural world—from the nested spirals of a sunflower's seeds, to the ridges of a majestic mountain range, to the layout of the Universe.
The 3rd Annual Spooky Science Monster Mash is generously supported by UHealth Jackson Children's Care and Alpha Kids Salon & Spa.
Schedule of Events
To download a PDF schedule, click here.
Mini-Me Science is Frost Science's monthly program designed for you and your little one (children ages four and younger). Today's activity: Become a tiny entomologist and discover how spiders are able to create their silky masterpieces! Advance Paid registration is required. If interested, please inquire at Member and Guest Services or visit frostscience.org/minime.
Happy Halloween with Kiddos Magazine 
11:00 a.m. to 4:00 p.m., Main Atrium, Level 1
Celebrate the holiday with fun goodies and hands-on arts and crafts to get the creativity flowing for your little Halloween monster.
Try a new hairdo to match your Halloween costume with Alpha Kids Salon & Spa, who are providing complimentary hair braiding and hair stylings plus more.
Discover marvelous metals, the theme of National Chemistry Week in celebration of the year of the periodic table, with Halloween trickery added to the mix. Partners include Barry University, Florida International University, St. Thomas University, the University of Miami, and the Younger Chemists Committee, South Florida Section of the American Chemical Society.
Trick or Treat with UHealth Jackson Children's Care
11:00 a.m. to 4 p.m. Main Atrium, Level 1
Trick or treat! Discover a healthy way to celebrate Halloween by choosing between a health snack for a treat, or learning some tricks on how to balance a special candy treat with a mini workout.
Whoo Whoo's There? Owl Encounter
11:30 a.m. and 2 p.m., Royal Caribbean Vista, Aquarium, Level 4
Meet a nocturnal member of the Frost Science family! Chat with our husbandry team to learn more about how an owl's unique behaviors lead to survival in the wilderness.
Underwater Pumpkin Carving
12:00 p.m., Dive, Aquarium, Level 3
We are taking pumpkin carving to a whole new depth. See how our aquarium team creates frightening or friendly jack-o-lanterns underwater.
Eyeball Dissection
1:30 p.m. and 3:30 p.m., Outdoor Terrace, Level 3
TWe've got an eye on you! Join us for a sticky, icky cow eyeball dissection to learn about the basic anatomy of one of our favorite organs.
Into the Cauldron LIVE Show
12:45 p.m. and 2:45 p.m., MeLaB, Baptist Health South Florida Gallery, Level 1
Bubble, bubble, fun and trouble! Join us as chemistry helps us change the color of water, create bubbling concoctions, and even make water disappear before your very eyes.
Costume Guidelines:
Costumes must be family-friendly and may not be offensive or objectionable as determined by museum personnel.
Costumes may not include a mask; headwear is permissible so long as the face is visible.
Costumes may not be primarily based upon a depiction of any particular race, religion, nationality, or condition of disability.
Costumes may not make an overt political statement of any kind.
Costumes may not contain any weapons or any item that might be mistaken for a weapon.
Costumes may not contain sharp objects or other components that might pose a risk to a guest or animal.
Costumes may not drag on the ground.
Guests who do not adhere to these guidelines may be refused admission or asked to leave the museum unless his/her costume can be modified to adhere to these costume guidelines.
All interpretation/implementation of these Costume Guidelines shall be made by museum personnel in their sole discretion. These Costume Guidelines are subject to change without notice.
Parking Instructions
Onsite parking is available in the museum garage.