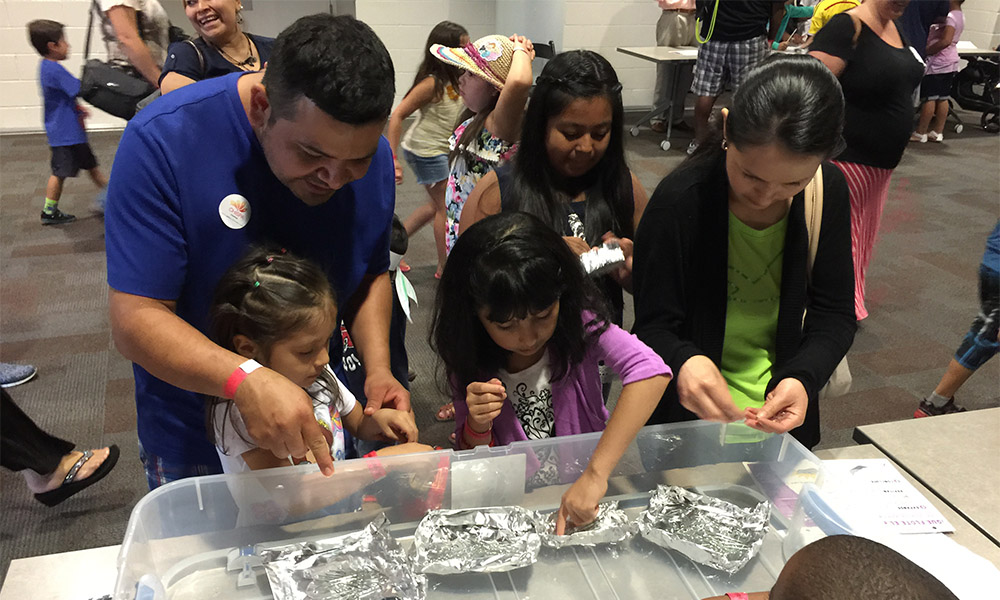 CHISPA has a national impact through collaboration with the National Council of La Raza (NCLR), the ASPIRA Association and a network of 10 other science museums located in cities with growing Latino populations, as well as 29 Hispanic-serving community-based organizations that partner with the museums.
CHISPA provides these museums and centers with after-school programming by way of the Frost Science APEX Science curriculum, a set of 32 engaging hands-on science lessons and tool kit materials that we developed with funding from NSF . Instructors lead activities that address life science, energy, environmental science, forces of motion, Earth/space science and processes that shape the Earth.
The curriculum, available in both Spanish and English, has been shown to help instructors feel more comfortable teaching science, and therefore leads them to incorporate science into their after-school programs more often. Additionally, CHISPA provides a program to strengthen parent engagement, and the 11 participating science museums host family science days at their facilities on an ongoing basis. As a result, a growing number of Hispanic families are enjoying the resources science centers have to offer.
Now starting its fourth year of implementation, CHISPA has enhanced science learning for thousands of children and their families. Recently, the White House Initiative on Educational Excellence for Hispanics honored the project as one of its national Bright Spots in Hispanic Education. To learn more about the project, click here.
Purchase APEX Science Curriculum