Space: An Out-of-Gravity Experience
Discover what it takes to live and work in space, while exploring the dangers that astronauts face during their missions above-Earth. On view through September 10.
We've all imagined what it's like to live and work in space, but only a select few have actually done it.
In fact, maybe you've wondered how astronauts sleep in a weightless environment, or how they manage to eat while in orbit. Our newest special exhibition Space: An Out-of-Gravity Experience, sets out to answer these very questions.
Using interactive exhibits and multimedia components, the Space exhibition gives you a glimpse at the extraordinary conditions of human space travel, as well as the unique challenges and rewards of life on board the International Space Station. You'll learn about weightlessness and the challenges it presents to living in space long-term while experiencing the sights, sounds and smells you might find aboard an orbiting space station.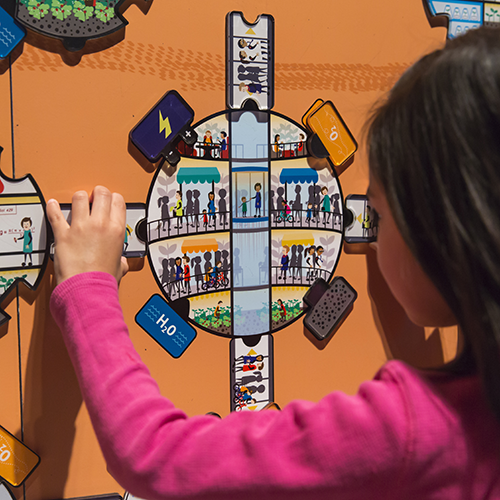 Along the way, you'll also find incredible footage of astronauts living and working in space, as well as interviews in which they reflect on the challenges and accomplishments of their unique line of work.
Developed in partnership with the International Space Station Office of NASA's Johnson Space Center, the California Science Center and the partner museums of the Science Museum Exhibit Collaborative, the Space exhibition invites you to experience traveling to, living and working in space. You'll be fully immersed in the challenges that astronauts—and the engineers and scientists that make their journeys possible—face.
Highlights of the exhibition include:
Relics from the past fifty years of space exploration—including Neil Armstrong's gloves from Apollo 11.

Hands-on experiments that use water rockets to explore the physics of the launch.


Drop towers that investigate how familiar objects behave differently in the weightless environment of space.

Interviews with personnel who share firsthand accounts of life in space.

Space: An Out-of-Gravity Experience admission is complimentary with museum tickets.