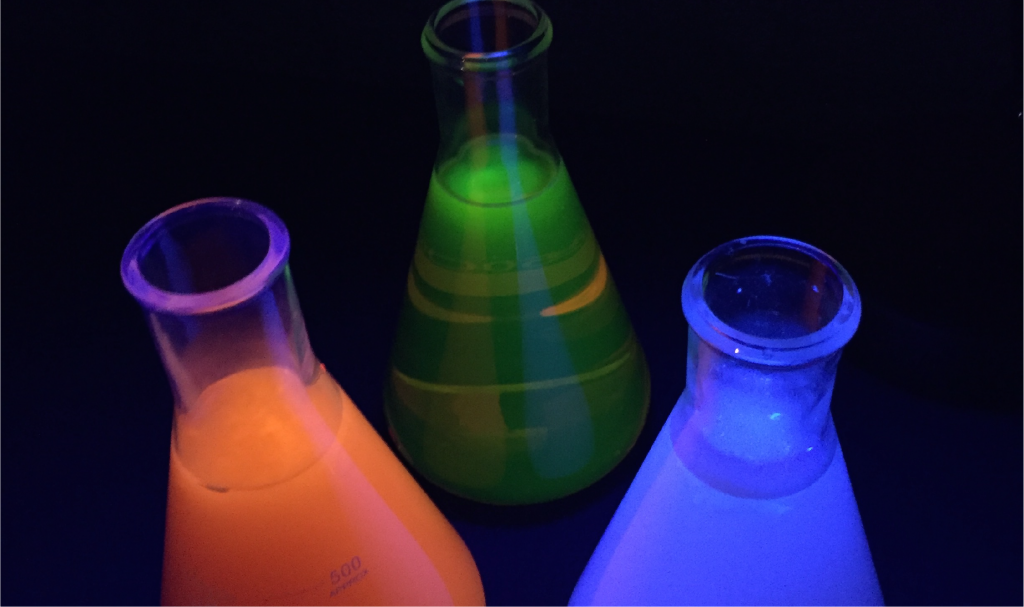 What lurks throughout our hallowed corridors on the cusp of the most frightening day of the year?
Nothing that science can't explain!
Suit up in your favorite costume and join us for our Spooky Science Monster Mash on Saturday, October 28. We're putting a Frost Science spin on Halloween with bone-chilling science experiments and creepy, cool encounters throughout the day. You'll also get a chance to experience the debut of our newest exhibition, "Monster Fish," which will guide you through the world's freshwater rivers as you learn about the bizarre and colossal ancient fish that silently roam their depths.
Some of the day's spooky science includes:
Do-It-Yourself Chemistry!

11:00 a.m. – 3:00 p.m. / Ongoing
Location: Levels 2 and 3, Terraces

Join our partners in the American Chemical Society of South Florida as they wow us with a thrilling series of hands-on experiments in celebration of National Chemistry Week (NCW).

Owl Encounter

11:00 a.m., 2:00 p.m.
Location: Mary M. and Sash A. Spencer Aviary, Aquarium Vista (Level 4)

What goes "bump in the night?" Nocturnal animals, of course! Meet one of our owls and explore how their unique avian behaviors lead to their survival.

The Smoking Cauldron "

Spooky

 

Science

" LIVE Show

11:15 a.m., 1:15 p.m., 3:15 p.m.
Location: MeLab Stage, Baptist Health South Florida Gallery (Level 1)

Is it magic, or science? Watch a super "chilling" demonstration using dry ice, liquid nitrogen and the power of energy transformation.

Underwater Pumpkin Carving

12:00 p.m., 1:00 p.m.
Location: Mangrove Forests and Florida Reef Habitat, Aquarium Dive (Level 3)

In a Frost Science first, we'll be carving a pumpkin… underwater! Join our Aquarium team as they create some frightening jack-o-lanterns in the water.

The Truth About Sharks

2:45 p.m.
Location: Gulf Steam Oculus, Aquarium Deep (Level 2 – accessible via Level 1 or Level 3)

Some things can seem really scary. That is, until we get a chance to truly understand them. Learn about the biology of sharks and find out why most have such sharp teeth—and what they eat with them!
Coming in costume? We'll give you a complimentary Halloween mini-button* for getting into the spirit.
Spooky Science Monster Mash programming is free with paid museum admission. All programming is ongoing throughout the day (9:30 a.m. to 5:30 p.m.).
*While supplies last.
Costume Guidelines
Costumes must be family-friendly and may not be offensive or objectionable as determined by museum personnel.
Costumes may not include a mask; headwear is permissible so long as the face is visible.
Costumes may not be primarily based upon a depiction of any particular race, religion, nationality, or condition of disability.
Costumes may not make an overt political statement of any kind.
Costumes may not contain any weapons or any item that might be mistaken for a weapon.
Costumes may not contain sharp objects or other components that might pose a risk to a guest or animal.
Costumes may not drag on the ground.
Guests who do not adhere to these guidelines may be refused admission or asked to leave the museum unless his/her costume can be modified to adhere to these costume guidelines.
All interpretation/implementation of these Costume Guidelines shall be made by museum personnel in their sole discretion.  These Costume Guidelines are subject to change without notice.
Parking Instructions
Limited onsite parking. Learn more at frostscience.org/parking.