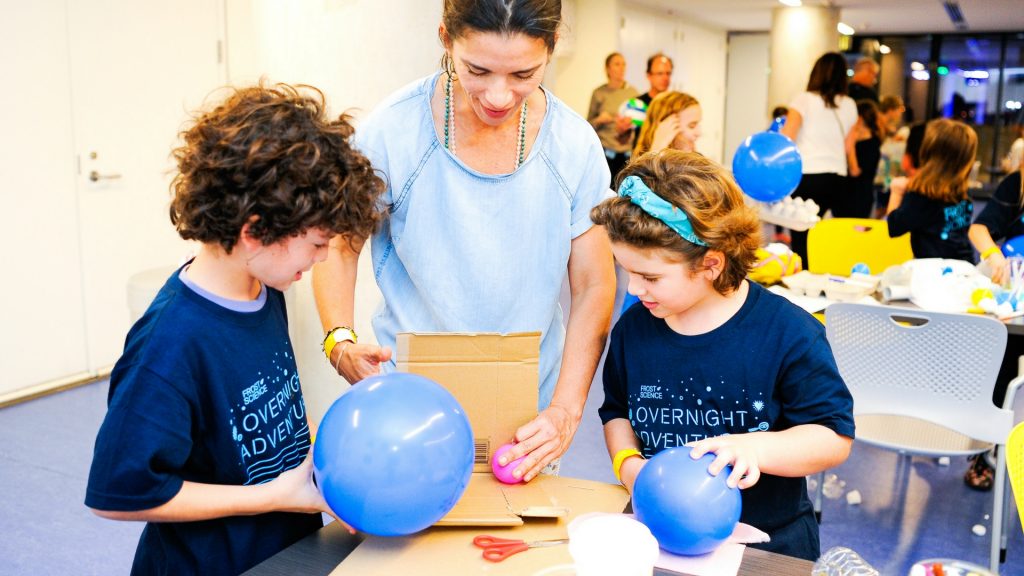 Science never sleeps…especially at the Phillip and Patricia Frost Museum of Science!
Pack your jammies—you're invited to join us on Friday, June 8, for the next Frost Science Overnight Adventure. Open to both families and youth groups*—and designed for children ages 5 to 17—our Overnight Adventures are a thrilling new way to experience the museum, as you spend the night exploring our interactive exhibitions, conducting experiments and meeting new people after dark.
June 8 Overnight Adventure: Rolling in the Deep
Celebrate World Ocean's Day with a special marine-themed Overnight Adventure, where you'll spend the night diving beneath the surface to explore our planet's expansive marine environs. Throughout the evening, you'll have special access to all three levels of our aquarium, including exclusive animal encounters on our Royal Caribbean Vista and Dive levels. We'll also have a fascinating discussion on sharks beneath the iconic Oculus with one of our content experts. Later in the night, Biscayne National Park (BNP) will teach us all about healthy ocean environs through a variety of hands-on coral-related activities and will also present a dissection of one of the ocean's most notoriously venomous (and invasive!) creatures—the lionfish!
You'll also have the opportunity to take an in-depth tour of our brand new Inventors in Residence Lab, where you'll discover how scientists are working to restore coral in warming waters and refining how to detect carcinogens with lasers!
Overnight Adventures cost $80 per person (whether adult or child). Dinner and breakfast are included in the cost. *Please note: adults may not attend unless accompanied by youth participants. Parking will be available from 5:45 p.m. to 8:15 a.m. for a $10 flat rate. Registration closes June 6, 2018.
For more information, click here or email overnights@frostscience.org.
Parking Instructions
Parking for Overnight guests is a $10 flat rate