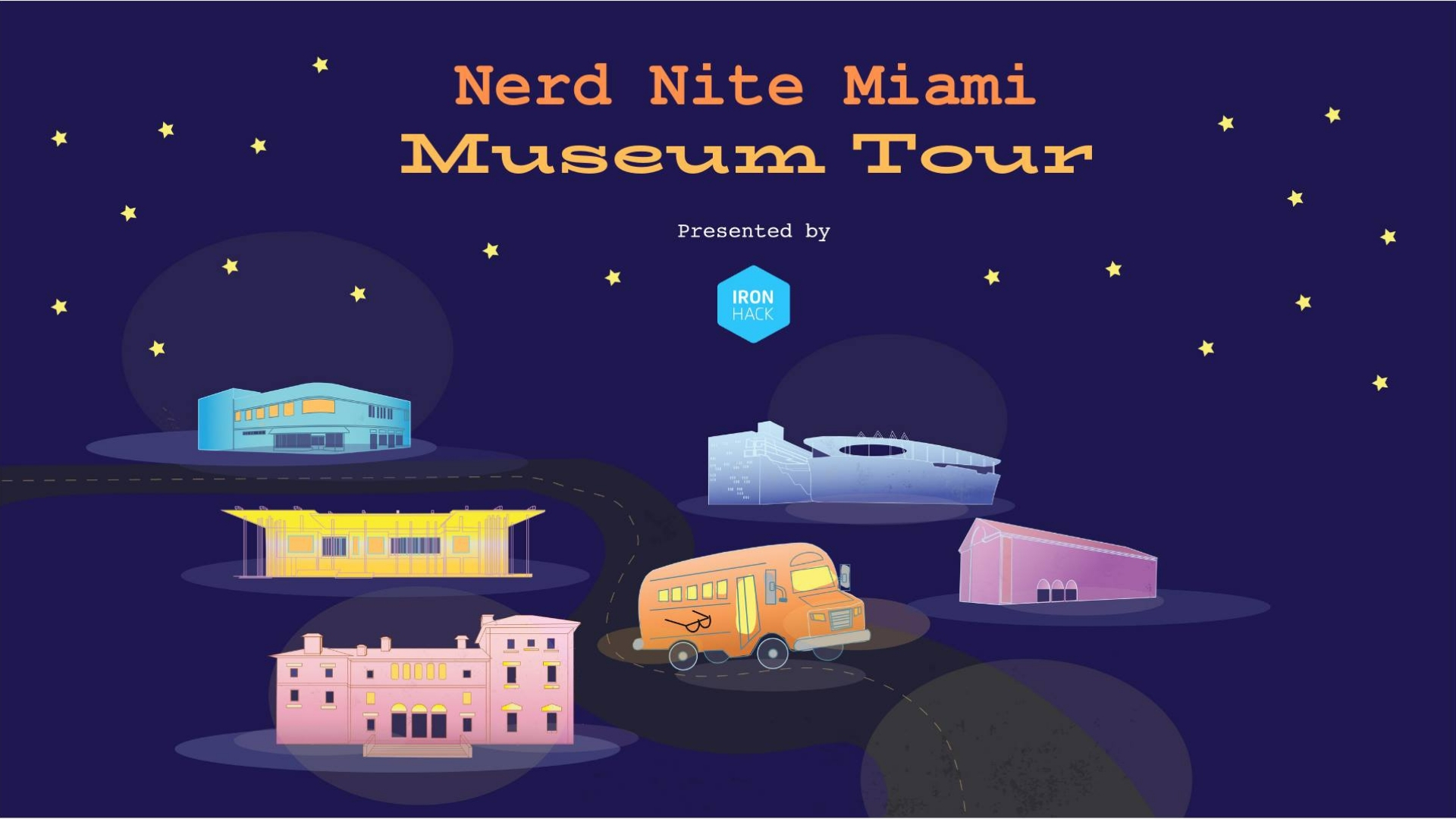 Join us for the Nerd Nite Miami Museum Tour Presented by Ironhack!
They're taking their show on the road! From April to August, Nerd Nite will be at a different museum around Miami each month. Never been to Nerd Nite before? Nerd Nite is an event during which several folks give fun-yet-informative presentations while the audience drinks along. (It's like the Discovery Channel… with beer!) Come grab a drink, learn something new, and hang out at Miami's museums with them!
Join us from 7:00 p.m. to 9:00 p.m. inside the Frost Planetarium. Here are the speakers and topics for the night:
"Sharks: Myth vs. Reality" by Andy Dehart
Through media sharks have earned a bad reputation as mindless eating machines that people should fear. Shark expert Andy Dehart will delve into the numerous myths surrounding these amazing animals and look at which are accurate and which are not. Looking at the science of sharks, it is clear that these creatures play a vital role in the marine ecosystem and maybe they have more to fear from us than we do from them.
Andy Dehart is the Vice President of Animal Husbandry & Marine Conservation at the Phillip and Patricia Frost Museum of Science. With more than 25 years' experience in animal husbandry at several major public aquariums throughout North America, Andy oversees all animal husbandry operations, aquatic life support operations, and wildlife rehabilitation programs at Frost Science, and manages a talented animal care staff dedicated to the welfare of the animal collection.
Andy's knowledge of sharks has led him to serve as Shark Advisor for the Discovery Channel, and resulted in appearances on the "Today Show," "The Early Show," "NBC Nightly News," "Larry King Live," "Fox News," "USA Today," "The O'Reilly Factor" and "The Situation Room with Wolf Blitzer." He has been featured in seven Shark Week productions for the Discovery Channel.
/ / / / /
"Climate change: what will happen in my backyard?" by Amy Clement, PhD
The climate is changing, the seas are rising, and Miami is on the front lines. Join us for a look into what changes we can expect in our own backyards.
Amy Clement is a Professor in the Department of Atmospheric Sciences at the University of Miami's Rosenstiel School of Marine and Atmospheric Science. She is an expert in climate modeling and in her research she strives to understand the mechanisms of past, present, and future climate change.
/ / / / /
"Neuropsychology of Self and the Process of Individuation" by Aldrich Chan, PsyD
What is the self? What has neuroscience uncovered about it? What are the applications of this knowledge? This presentation addresses these questions, in addition to introducing one path people may take to potentiate their capacities.
Dr. Chan is a neuropsychologist. He recently opened his own practice called the Center for Neuropsychology and Consciousness, in addition, he is an adjunct Professor for Master's level students at Pepperdine University and is continuing his research at the University of Miami on trauma and the Default Mode Network.
Nerd Nite Miami is grateful to Ironhack for their support of our museum tour. Ironhack is the #2 ranked coding and design bootcamp in the world! With 8 campuses all over the world, Miami is their only US location. Bootcamps range from 9 – 24 weeks in courses such as UXUI Design, WebDev and the newly launched Data Analytics! Learn how you can become the next digital creator at www.Ironhack.com.
Parking Instructions
Onsite parking is available in the museum garage for $8 flat rate starting at 6:00 p.m.