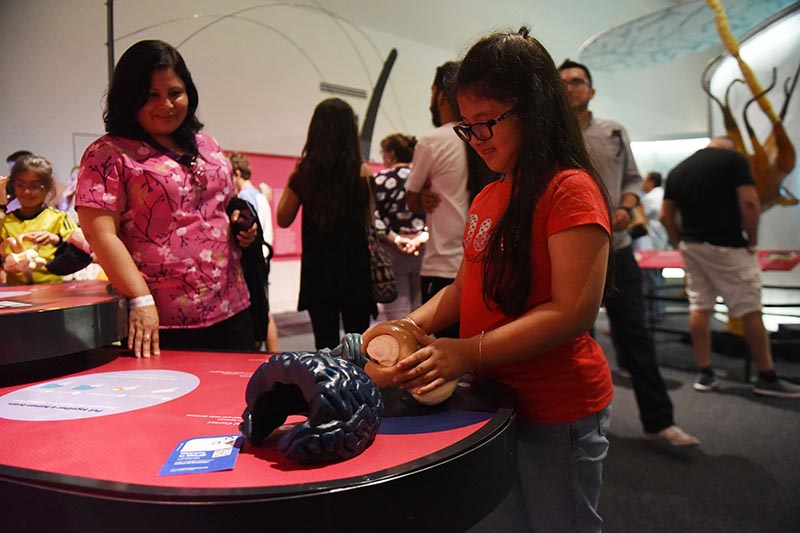 Get ready to fire up your synapses for this month's brain-focused Member Morning in honor of national Brain Awareness Week! Explore the museum an hour before everyone and experience your favorite exhibitions—including Brain: The Inside Story—as the museum opens early just for members. Along with beating the crowds, you'll get to test the limit of your mind with special brain challenges and games. Afterwards, the Frost Planetarium is joining the early morning fun with a special members-only screening of "To Space & Back."
Then, join Innergy Meditation at 9:30 a.m. for a family-friendly meditation session under the serene glow of our Oculus. This age-old mind and body practice has been shown to help with focus and insomnia. In fact, a 2012 study found that people who practiced meditation for many years exhibited more folds in the outer layer of the brain. This process (called gyrification) may increase the brain's ability to process information.
Also, don't forget to enjoy your complimentary cup* of drip coffee in the Main Atrium before taking advantage of a special members-only 20% discount on all Science Store items from 8:30 a.m. to 10:30 a.m. Let the discoveries begin!
Admission to Member Mornings are free and only open to members and their guests. Pre-registration is highly recommended. All members must have a valid membership card and show a photo ID upon entrance. Only those listed on the membership account will be permitted into the event. Accounts with guest privileges will be allowed the appropriate number of guests to accompany the member. The museum opens to the general public at 9:30 a.m.
Special thanks to

*While supplies last. One self-serve cup of coffee per adult cardholder.