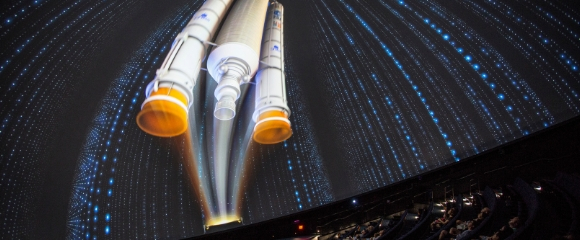 Join us on Friday, January 4 from 7:00 p.m. to 10:00 p.m. as we celebrate NASA's 60th anniversary and the next era of space travel. You'll have exclusive access to Frost Science exhibitions* and have the chance to enjoy specially-themed activities such as:
Spark of Science: Planetary Pounds
Interstellar photo booth
An astronomy-inspired concert, Reaching for the Stars: A Musical Journey Through Space-Time, featuring Dr. James R. Webb, an astronomer and physicist at Florida International University
Members will have access to select museum exhibitions in addition to receiving a 20% discount at the Science Store until 9:00 p.m. Food and beverage will be available for purchase in the Main Atrium by Constellation Culinary Group.
Admission to Member Evenings are free and only open to members and their guests. Pre-registration is requested but not required. All members must have a valid membership and ID.
Galactic Giveaways!:
Stop by the Membership table in the Atrium for a FREE NASA/JPL Visions of the Future poster and glow stick!
Special Laser Friday Discount:
Make it a total experience by booking a laser show before they sell out! Members will receive 20% off Laser Fridays tickets on this day and on the third Friday of every month. We've got a lineup of shows gracing the Frost Planetarium screen including The Beatles, Michael Jackson, Bruno Mars, Daft Punk and more. (Please note: Laser Friday shows are not included in the Member Evening—you may purchase your tickets online prior to the event).
*Inventors in Residence Lab and River of Grass Exhibition will be closed during Member Evening.