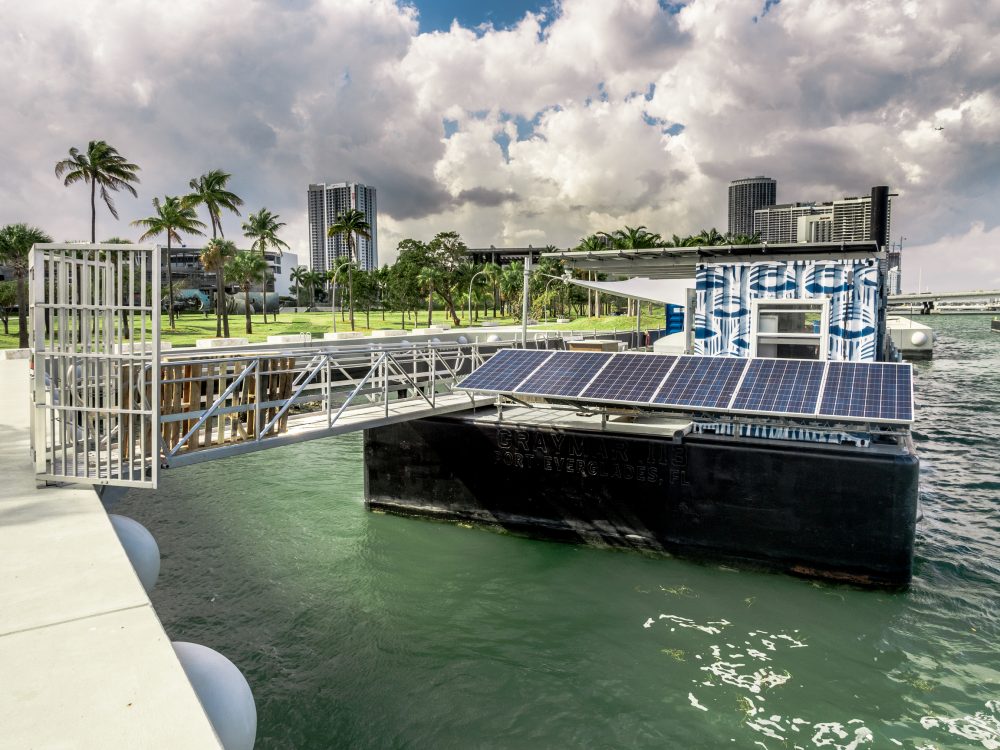 Maybe you've walked past it while on a sunny stroll through Museum Park's Baywalk—a floating rig on Biscayne Bay outfitted with solar panels and an assortment of equipment. Would you be surprised to know that it's a fully-functional laboratory?
Welcome aboard the Science Barge, a floating environmental laboratory that joined the Phillip and Patricia Frost Museum of Science family on April 1 as a result of a generous gift from Miami Science Barge, Inc., a non-profit organization. The $1.2 million project was conceived and designed by Ted Caplow and Nathalie Manzano as a floating environmental innovation lab, and opened to the  public in 2016. The Science Barge has become part of Frost Science a year later to continue the mission  of science education and sustainability. Since its opening in April 2016, the 120-foot long, 30-foot wide barge has been inviting the community to discover the unique living systems of Biscayne Bay.
The Science Barge is a natural extension of the topics and learning opportunities you'll explore in the museum's Aquarium and science exhibitions. On board, you'll find hydroponic systems, marine experiments and cutting-edge science that explores sustainable technologies—all powered by the solar panels surrounding it. You can also take part in active investigations into the surrounding marine life (think: plankton and fish). And while you're there, don't be surprised if you catch a glimpse of the manatee families, dolphins and sea birds that occasionally stop by the barge!
As a major focal point for STEM education, the barge has welcomed close to 9,000 visitors and 3,000 students from 50 different schools for interactive STEM sessions. And we have big plans to continue its mission—the barge will play an important role in our citizen science (or crowd-sourced science) program, which offers the community an opportunity to connect with ongoing research projects and the work of scientists.
While we plan on closing the barge for a few months this summer, look out for an exciting roster of programs and events when it re-opens later this year.
A calendar of public events can be found at www.miamisciencebarge.org.